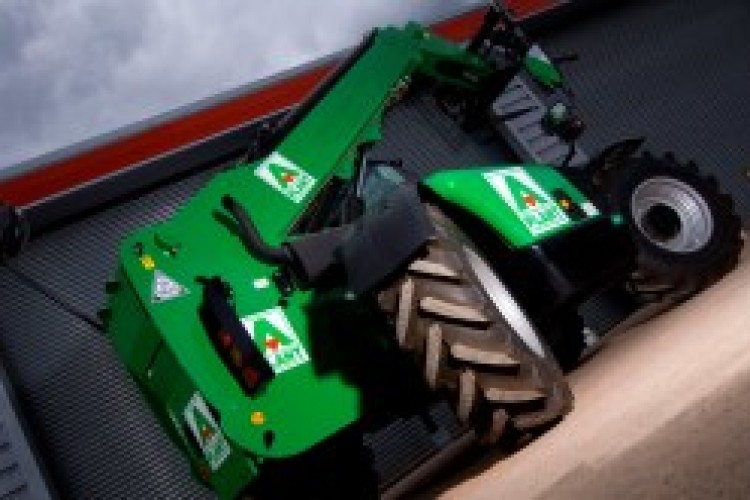 A-Plant made Ebitda of £12.6m for the period (2010: 12.3m) and operating profit up 15% to £2.3m (2010: £2.0m).
This result included a 3% growth in average fleet on rent and 5% yield improvement.
Parent company Ashtead's first quarter results were also boosted by improvements at its US operation Sunbelt, where revenue climbed 11% to £222.5m (2010: £199.4m) and operating profit jumped 54% to £45.6m (2010: £29.7m).
Group pre-tax profit for the first quarter more than doubled from £14.0m last time to £33.8m.
Ashtead said that full year results would be well ahead of previous forecasts.
Chief executive Geoff Drabble said: "Our end construction markets continue to behave in line with our expectations and now appear to be broadly flattening after two years of significant decline.  Against this backdrop, the 21% rental revenue and 67% profit growth achieved at Sunbelt show that we are clearly benefitting from the ongoing structural change in the US rental market.  Sunbelt has also now delivered 15 consecutive months of year on year rental revenue growth.  These structural trends are likely to continue with further increases in rental penetration and Sunbelt's market share expected.
"Together with our ongoing improvement in both yield and operational efficiency, these trends resulted in a very strong quarter with pre-tax profits of £34m.  August's US rental revenues continued this pattern with growth of 25%.  As a result, the board now anticipates a full year result substantially ahead of its previous expectations."
Got a story? Email news@theconstructionindex.co.uk