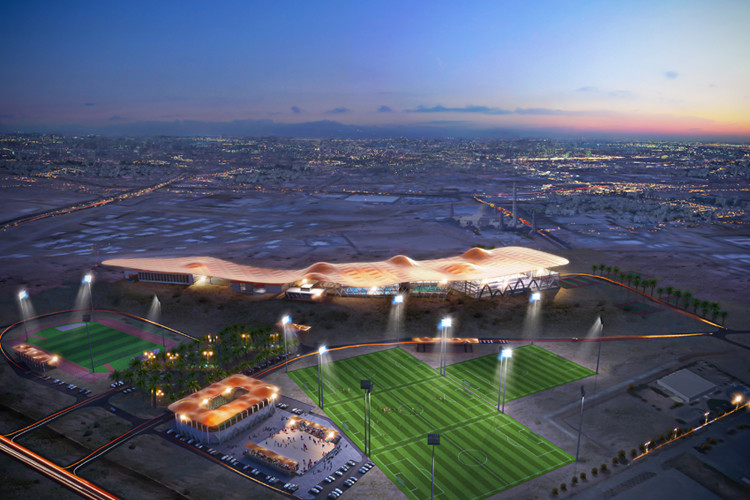 The concept design was awarded in August.
The Sultan Qaboos Sports Academy will 60m and 200m indoor running tracks and an indoor aquatic training centre, with Olympic-size swimming and diving pools housing spectator stands for 1,000 people.
A 3,000-seat outdoor tennis stadium will be a focal point of the design, featuring a roof structure that illuminates at night. Additional facilities will include football fields, a 400m athletics track, a tennis stadium, beach volleyball courts, a gymnasium, sports medicine centre, sports science faculty and laboratories.
Atkins' concept designer, Rohan Thotabaduge, said: "The architecture of the scheme is considerate of the Omani culture and the local history of the area.
"The feature roof structure is designed to be a visible iconic memory of the Bousher sand dunes and will be a glowing beacon at night. Its structure will be visually prominent when viewed from the expressway and beyond, drawing the future young Omani athletes into the academy, while creating a sense of place and community appeal. It will interconnect all the buildings on the upper level, providing shade and enhancing sustainability."
As well as being sympathetic to Omani culture, Atkins had to take into account a number of critical factors when undertaking the concept design of the academy, such as the tightly constrained site and the need for a flexible design solution. The complex will provide equal opportunity for men and women athletes.
Got a story? Email news@theconstructionindex.co.uk