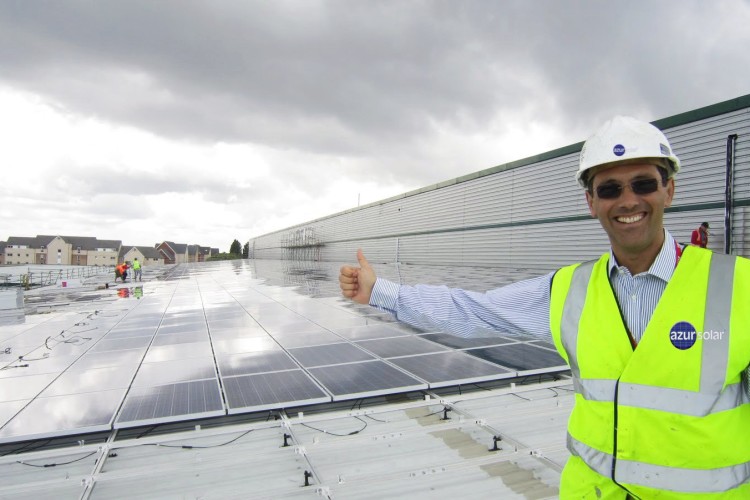 Over 3800 Azur 2P modules and a bank of 40 inverters were installed over the past month.  With a total coverage of 6,355.2 m2 the system would easily meet the needs of over 200 homes each year however The Body Shop International plans to consume all this energy itself on-site, significantly reducing its energy costs and eliminating over 390 tons of CO2 emissions from its operations annually.
"The installation of our own environmentally friendly solar PV solution using Azur Solar manufactured and installed modules is an important part of our plan to reduce our CO2 emissions from the site by 50%, by 2015.  We have a long history of working to protect our planet and this project is a significant investment in our programme of initiatives to improve the environment," explained Bill Hughes, International Environment, Health & Safety Director for The Body Shop International. "This approach remains true to our original values; by producing our own clean energy we not only secure a sound economic and environmental future for the business but we also confirm our commitment to reducing our CO2 emissions."
Speed of negotiation and delivery were key factors in this massive installation which has been completed ahead of the Government's 1st August Feed-In Tariff (FIT) reduction for large commercial on-roof and ground based systems which now see the return-on-investment for PV projects larger than 50kW slashed.  The typical contracting process, particularly for such a large solution normally takes around three months to reach the signature stage; however we condensed the whole process, including installation into less than three months, even with the additional scrutiny required to meet the extremely rigorous ethical standards and code of conduct of The Body Shop International.
"Whilst price and a sound solution were contributing factors, more importantly being an established, reliable and family based business and our ability to prove that we actively manage every aspect of the solar supply chain from initial design and manufacture through to after sales service to an exacting standard was equally important in Azur Solar being awarded this prestigious contract," explained Robert Markus Feldmann, managing director for Azur Solar Systems Ltd.  "The economic and environmental benefits of solar PV are already well appreciated, but we still had to prove that our product not only ticked all the boxes but that we could also pull out all the stops on this installation."


Another key factor in The Body Shop's decision to go with Azur Solar was its unique 2P coated modules.  While that have a slightly higher entry price, they are virtually free of degradation and produce up to 15% more lifetime power.  Whereas many 'conventional' modules see a drop off in performance, particularly in the latter years of operation, Azur 2P modules are guaranteed to still perform at above 98% efficiency even after 20 years.  This means that they will continue to generate more clean, efficient, economic and ecologically sustainable energy over the life of the system and even at today's energy prices the initial additional cost is more than offset by a significant factor. 
"Solar is definitely the energy of the future when it comes to clean, efficient, economic and ecologically sustainable energy production," concluded Robert Markus Feldmann.  "The earth receives enough energy from the sun in just one hour to meet the global electricity needs for a whole year and modern solar panels only require daylight in order to generate clean electricity.  AZUR SOLAR produces a technologically advanced, quality product at an affordable price, which delivers real savings for end user customers."
Azur Solar has delivered tens of thousands of its highly reliable and efficient solar power generation systems to customers across Europe and worldwide and delivers and installs turnkey solar PV systems on commercial and residential roofs throughout the Thames Valley and across the UK.
Got a story? Email news@theconstructionindex.co.uk