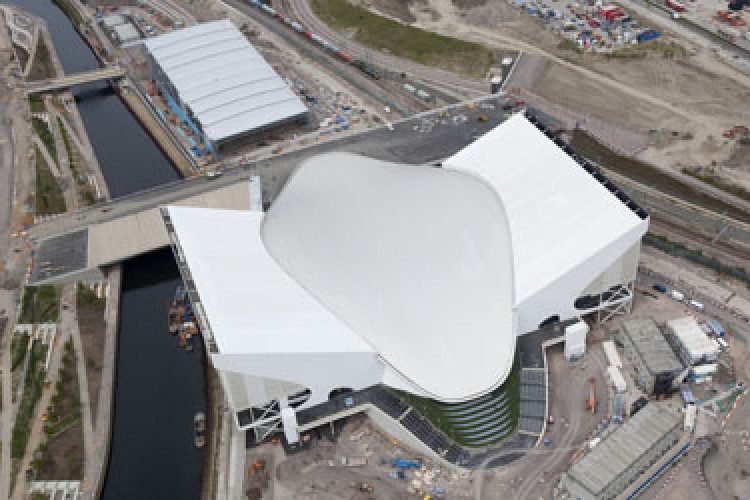 The Aquatics Centre is now the sixth main Olympic Park venue to be completed. The main stadium, the velodrome, the handball arena, the basketball arena and the International Broadcast Centre were all completed earlier this year.
Construction started on the Zaha Hadid-designed Aquatics Centre in June 2008. More than 3,630 people have worked on the construction of the venue and more than 370 UK businesses have won contracts including the steel for the roof from Wales, pool lights from Scotland, pumps from Bedfordshire, under-floor heating by a company from Newcastle-upon-Tyne and water testing done by a Flintshire-based business.
The sweeping roof, which is 160m long and 90m at its widest point, is an innovative steel structure weighing more than 3,000 tonnes with an aluminium covering, half of which is recycled, resting on three supports.

More than 850,000 ceramic tiles have been installed in the pools, poolside and changing rooms.
Olympic Delivery Authority chairman John Armitt said: "The Aquatics Centre will be a fantastic gateway to the Games in 2012 and a much-needed new community and elite sporting venue for the capital afterwards. Five years ago, in July 2006, we published a delivery timetable which set out the ambitious target to complete the main venues a year before the Games. Today, with the completion of the sixth main permanent venue, I am proud to say that we have delivered on that commitment.
"The completion of the Aquatics Centre is the latest chapter in a British success story where tens of thousands of workers and business from across the UK have demonstrated the ability of this country to successfully deliver major projects."
Got a story? Email news@theconstructionindex.co.uk