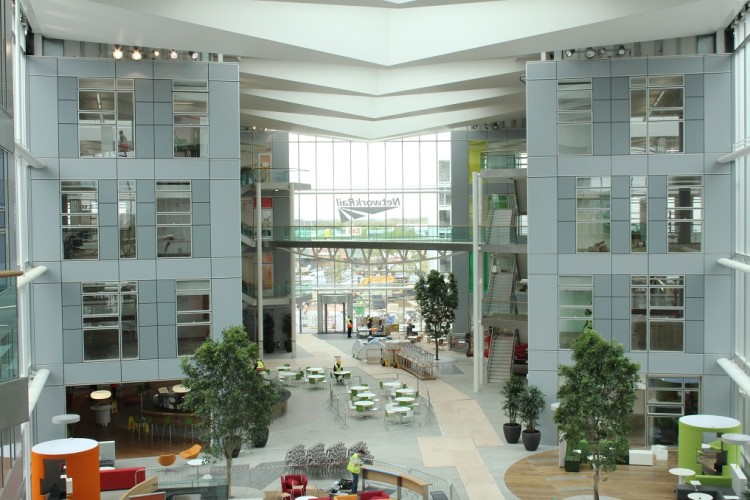 Network Rail is in a hurry. It is locating staff from all over the UK to a new 38,000m2 office in Milton Keynes and the lease on its largest premises in Euston runs out next month.
"It's non-negotiable," says Network Rail project director Tim Coucher. "Our 3,000 staff have to be in the new building in June."
The 95-week construction programme meant there was no room for manoeuvre for main contractor BAM. What's more, Network Rail wanted its showpiece offices to be naturally ventilated, which meant engineering and construction had to be perfectly executed. In a building relying on passive measures BAM couldn't use air conditioning as a get out of jail card if the building overheated.
"The programme here is particularly challenging," says BAM's construction manager Chris Edwards. "It gave us effectively 76 weeks per office building which meant we had to try a lot of scenarios with overlapping trades before we found the ideal sequences."
Network Rail's aspiration is for a BREEAM excellent rating and the choice of a naturally ventilated building was a huge step towards achieving this goal. Coucher was won over by the concept having seen Pearson's Edinburgh Gate offices in Harlow, which won BRE's green building of the year in 1995. "Occupants could open windows and control their environment. It had a domestic feel compared to sealed, air conditioned offices and people seemed to approach each other in a more positive way."
Milton Keynes:MK comprises four standalone blocks orientated to maximise solar gain in the winter and negate overheating in the summer. The two lines of four-storey offices are angled away from each other forming a trapezoid, which is partially glazed to form a light-filled central atrium where office workers can break out and meet for lunch. (See BREEAM Excellent boxout for more on natural ventilation strategy.)
To ensure the office was completed on time and to budget Edwards and project manager Adam Harding made sure subcontractors had an input from the very start. "Everything has an effect on everything else," says project manager Adam Harding. "It's particularly important with offsite construction. You have to have input from trades such as the curtain walling contractor otherwise you could have something hanging from your reinforced concrete frame that weighs too much."
The curtain walling contractor Structel was on a critical path says Edwards. "Once the reinforced concrete frame was up we're straight onto the panels so we needed them on board straight away. We had to get the building weather-proofed as quickly as possible."
After analysing the loads of the curtain walling and reinforced concrete frame Edwards and Harding were able to save money by reducing the size of the number of piles in each pile cap from four to three.
Concrete frame weight
The team also managed to reduce the weight in the concrete frame by removing void formers from the slab, which add strength to the concrete, and instead use post tensioning. The slabs were reduced by 75mm as a result, reducing the weight of RC frame while maintaining the thermal performance.
The central atrium was on the critical path. It had to be made watertight as quickly as possible to allow trades to start work on the interiors but an issue with acoustics and the design of the steel butterfly trusses spanning the atrium space was threatening to delay the programme.
Noise from the main atrium was potentially disastrous as the natural ventilation strategy relied on office spaces opening into the main atrium space to create necessary air flows. A solution was found by wrapping the butterfly trusses in Barrisol acoustic fabric. This allowed the steel contractor to simplify the design of the trusses - originally they were drawn with invisible fixings - which meant money was saved using I-shaped rather than box sections.
Site logistics was identified as a potential barrier to completing the building in time. Edwards said the speed of construction meant BAM was faced with overlapping trades. It used 4D modelling to analyse various scenarios and assess optimal scheduling patterns. Large numbers of trades meant up to 630 men on site, making for a potentially congested site involving over 300 vehicle movements a day.
BAM identified land to the south of the site as a potential location for site offices and it explained the benefits of off-site accommodation to Network Rail. "We did a good deal with the HCA and moved workers to the site including 40 managers," says Edwards. "It was cheaper for us than constantly resetting up on the main site."

Network Rail built BAM a footbridge over a busy street linking the site offices to the construction site. "Putting a pedestrian bridge was a no-brainer," says Network Rail's Coucher. "We live and breath health and safety and are always thinking what else we can do." Other initiatives from Network Rail included an on-site occupational therapist, flu jabs for workers and winter fruit.
An unexpected threat to the build programme was a problem with the Kalzip perforated steel cladding which ventilated the car park space. After installation Edwards discovered it emanated a shrill whistling noise of up to 80 decibels when the wind speed hit 25mph. Edward's team had to dampen the sound of the howling wind by installing acoustic baffles behind the screens. "That caused me a few sleepless nights," admits Edwards.
With days to go before the first Network Rail staff arrive finishing touches are being applied to the landscaping, including compost being dug into a kitchen garden that will supply the canteen with fresh produce (another BREEAM point). The project has arrived at its destination on time and Milton Keynes has a signature low carbon building that could encourage other companies to relocate to a city where development land is plentiful and energy is green.
Achieving BREEAM Excellent
Each of the four office block has two atria to enable hot air to be exhausted out of the building and to allow light to flood deep into the plan of the offices. In the offices high soffits, narrow floor plans and high thermal mass in the concrete frame ensure warm air flows out of the space at ceiling height and is replaced by cool air from the floor plenum.
All the offices have openable windows, and brise soleil protect occupants from solar gain (GMW also specified shading on the northern facades for design consistency).
The interior spaces have be monitored closely to ensure air flows are unobstructed. "If you add meeting rooms you will prevent the cross flow of ventilation." says Edwards. "All this knowledge has been handed over to Network Rail, and the building will be closely monitored for 12 months."
Other BREEAM friendly touches include rainwater harvesting, living roofs, and charging point for electric cars. Fig trees are an unexpected feature of the outer atria. They can be rotated on a bed of golf balls to ensure they don't lean one way towards the light.
District heating network
The Quadrant: MK is plugged into a local district heating network run by Thameswey Central Milton Keynes, part of an energy services company formed by Woking District Council.
The company has established a combined heat and power plant in the centre of Milton Keynes, which will supply electricity and heat to Network Rail. The energy centre currently supplies 800 residential and 30 retail units in the nearby Hub and Vizion schemes and will be powering the nearby Pinnacle office development.
"In terms of heat we don't need large boilers or a gas supply," says BAM construction manager Chris Edwards. "Hot water comes into an energy centre on site where we have heat exchangers and heating pipes. It means we don't have gas flues to deal with so there is a saving in space."
CHPs are a very efficient method of generating electricity as they recover heat that would otherwise be lost. Heat is piped to buildings connected to the district heating network.
The energy centre has three thermal storage tanks, which maintains water at a temperature of 85 degrees centigrade and means that heat produced by the CHP can be stored for three days if not immediately required by residents and businesses.
Project team
Main contractor: BAM
Quantity surveyor: Sense
Landscape architect: Capita Lovejoy
Building services engineer: Scott Wilson
Civil and structural engineer: Waterman
Project manager: Mace
Architect: GMW
Got a story? Email news@theconstructionindex.co.uk