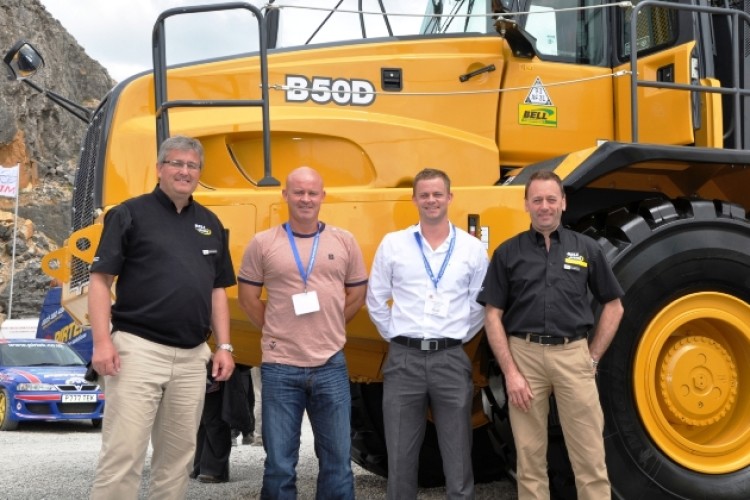 The deal represents the first venture into Bell ADTs by the Wakefield-based land restoration and surface mining specialist.
All four trucks are at work at Comrie Colliery, in Fife, which is undergoing a massive reclamation scheme.  The operation involves work in varied terrain and often in weather conditions that would render a rigid dump truck inoperable – yet LES is reporting record fuel efficiency figures from the Bell ADTs.  
Iain Devine, director of Land Engineering Services, said the size of the operation demanded an uplift in handling capacity from its existing 40-tonne ADTs.
"We wanted the operation to stick with ADTs, but we need bigger capacity," he said. "We knew we'd either have to go for ADTs or rigids, but the rigid trucks don't work nearly as well in adverse conditions, which is an extremely important consideration in Scotland. So we decided to go with the Bell B50D, which is still the biggest ADT on the market. They suit the difficult conditions, the site and our overall operation very well."


He added: "Fuel consumption on the Bells is between 18 and 22 litres per hour, depending on conditions, gradient and distance," he said, "which is a real improvement on what we were getting before."
 The former Comrie Colliery has more than 100 hectares of land unfit for conventional countryside use. LES will be extracting an estimated 680,000 tonnes of remaining coal resource from the site over the next few years and use the revenues to bring the vast area back into use as countryside. The project will include the creation of a new wetland habitat for great newts.
The three B50D trucks are each shifting about 3,000 tonnes of overburden per day – approximately 270 tonnes per hour – as part of the project.
Got a story? Email news@theconstructionindex.co.uk