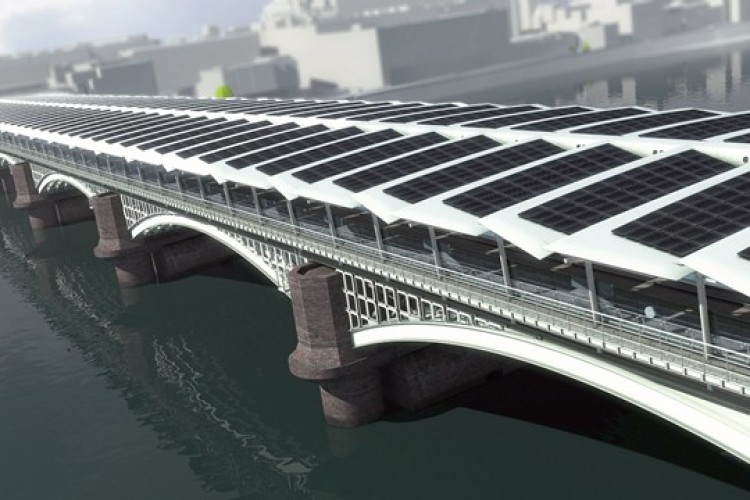 More than 4,400 solar photovoltaic (PV) panels are being installed above the station along the bridge.
The Victorian bridge, built in 1886, is the foundation for the new Blackfriars station, which is being upgraded by Network Rail to cater for more passengers and an improved train service. A new roof, added to the historic structure, will incorporate more than 6,000 square metres of PV panels, creating the biggest solar array in London.
The solar panels will generate an estimated 900,000kWh of electricity every year, providing 50% of the station's energy and reducing CO2 emissions by an estimated 511 tonnes a year. In addition to solar panels, other energy saving measures at the new station will include rain harvesting systems and sun pipes for natural lighting.
The Blackfriars upgrade is part of the Thameslink programme, which will see longer trains running on the route from Bedford to Brighton through London. Once the upgrade is complete, up to 24 trains per hour will be able to run on the central London section of the route.

Network Rail project director Lindsay Vamplew said: "The Victorian rail bridge at Blackfriars is part of our railway history. Constructed in the age of steam, we're bringing it bang up to date with 21st century solar technology to create an iconic station for the city."
The panels are being installed by Solarcentury, which worked with engineers Jacobs to incorporate solar PV into the station design. The solar panels are manufactured by Sanyo Electric.
Solarcentury chief executive Derry Newman said: "Unknown to most, there are many hundreds of buildings now powered by solar in the capital as investment in this technology increases. For people to see that solar power is working is a vital step towards a clean energy future."
According to Network Rail, the only other solar bridge in the world is in Brisbane, Australia - the Kurilpa Footbridge, constructed in 2009. However, earlier this year 16,000 solar panels were laid on the top of a train tunnel in Belgium, for trains travelling from Paris to Antwerp. The electricity produced there is equivalent to that needed to power all the trains in Belgium for one day a year.
Got a story? Email news@theconstructionindex.co.uk