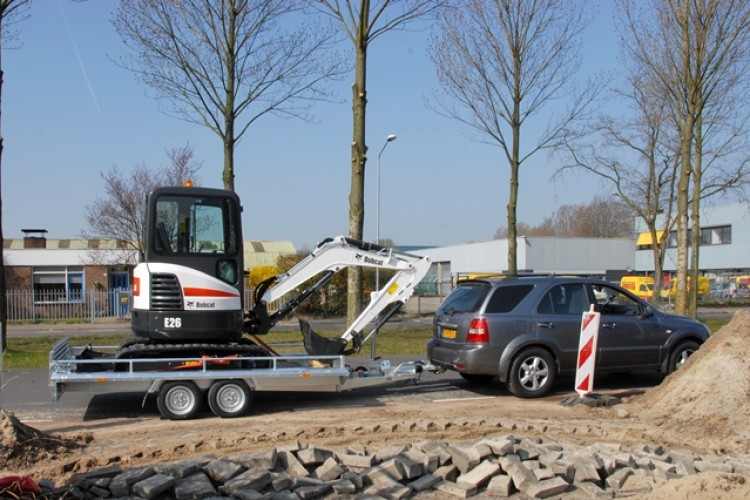 The E26 joins the new E-generation of excavators from Bobcat launched over the last 18 months.
The 4-plate box design for the workgroup, high resistant DCPD covers and 'quick lock' hydraulic connections contribute to reliability and stability, Bobcat says. The 4-plate box design reduces weight in the workgroup which, together with weight being added at the back of the excavator, has made it possible to move the centre of gravity towards the rear of the machine for increased stability.
The increased stability means that the E26 mini-excavator does not require an additional counterweight when configured with the optional long dipperstick. This increases the working range while still limiting the weight of the cabbed long arm version of the E26 to 2700 kg to allow it to be transported by trailer (maximum towable weight, including trailer: 3500kg).
The E26 uses the same cab that Bobcat uses on its 3t to 5t excavators, with the door able to be fully opened within the width of the upper structure to reduce the potential for machine damage.
The control system, which automatically monitors the engine and hydraulic systems and shuts them down in the event of a problem, also automatically turns off the work lights after 10 minutes when the key is not in the ignition to prevent the battery being run down. A battery kill switch provides added security.
The boom swing is controlled by a thumb wheel located on the left joystick, instead of the pedal control used on many machines of this size.
Pilot controls for the blade automatically manage the floating of the blade relative to the tracks so the operator does not need to continuously adjust the blade, Bobcat says.
A new feature on the E26 mini-excavator is the auto-shift travel motor allowing the machine to shift automatically from low to high speed and vice-versa, which Bobcat says improves travel performance in all working conditions. The operator can also activate this feature by pushing the button on top of the blade control lever.
The E26 has a 15.5kW Kubota D1105-E2B-BCZ-2 diesel engine and a new air intake, cooling and exhaust system, helping to reduce noise for operators to 77 dBA and for bystanders to 91 dBA.
Bobcat E26 mini-excavator specifications
| | |
| --- | --- |
| Engine | Kubota D1105-E2B-BCZ-2 |
| Max. power at 2400 rpm | 15.5 kW |
| Operating weight, rubber tracks and 500 mm bucket (with cab): | 2565 kg (2695 kg) |
| Maximum digging depth (long arm): | 2582 mm (2890 mm) |
| Maximum dump height (long arm): | 3057 mm (3239 mm) |
| Maximum reach at ground level (long arm): | 4553 mm (4966 mm) |
| Digging force standard arm (long arm): | 15.8 kN (13.2 kN) |
| Digging force bucket | 22.2 kN |
| Maximum travel speed | 2.4 km/h – 4.6 km/h |
| Auxiliary hydraulic flow | 48.0 l/min |
| Track width | 300 mm |
| Width over tracks | 1500 mm |
| Transport dimensions (height x width x length) | 2412 x 1515 x 4326 mm |
Got a story? Email news@theconstructionindex.co.uk