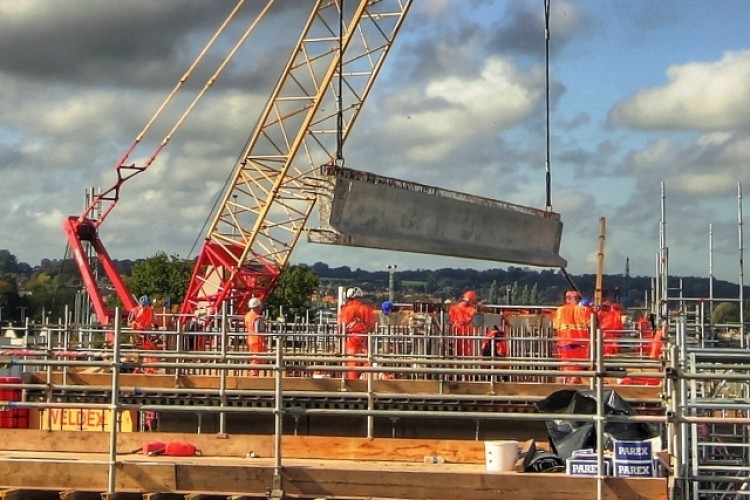 The structure is part of Network Rail's £895m redevelopment of the railway in Reading. It will cut delays caused by congestion on the tracks to the west of the station when it opens in 2015, creating more capacity for an additional four passenger trains per hour as well as more freight trains.
Network Rail acting programme director Jim Weeden said: "This is another massive milestone in our investment in Reading's railway and our £5bn upgrade of the entire Western route. Each beam weighs around 40 tonnes and at 23 metres long, lifting them on to the bases we have built was a challenge, especially as we were working next to a live railway.
"Safety has been our number one priority and we are pleased to say that everything has been delivered without a hitch ahead of our construction programme."
The work to install the beams was carried out by Network Rail's principal contractor, Balfour Beatty. The beams were fabricated by Shay Murtagh in Ireland and shipped to Liverpool docks before being transported to Reading by road.
They were lifted into place by crawler crane specialist Weldex using a pair of lattice boom cranes.

Balfour Beatty construction manager Guy Anstiss said: "The placing of the first beams represents a symbolic step in the journey to completing the project. I would like to pay tribute to all involved, particularly those at Shay Murtagh in the fabrication and logistical planning of the deliveries and to the team on site in Reading who have done such good work in the preparation and execution of the tandem lifts."
Liam McGovern, contracts director for Shay Murtagh Precast, said: "Producing and moving over 320 beams and 170 large box culverts requires significant organisation and it has been a magnificent team effort."
The construction of the viaduct will also allow Network Rail to complete the widening of Cow Lane, a notorious bottleneck on Reading's road network. Remodelling of the northern Cow Lane bridge will finish in 2015, as it cannot be completed until the tracks above it are moved on to the new viaduct.
Got a story? Email news@theconstructionindex.co.uk