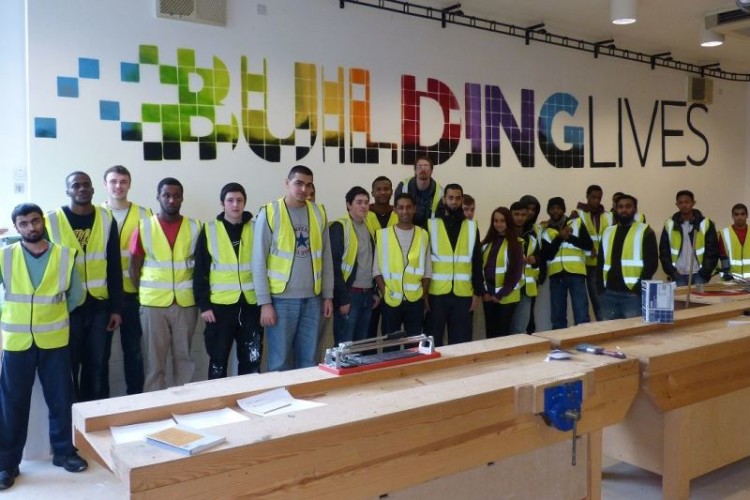 All 16 staff have been served redundancy notices and operations will cease by 30th June 2016.
In a statement the organisation said: "This decision has not been taken lightly. Given the skills crisis in London, it is incredibly disappointing that we are unable to continue with our model, especially as it provides huge value for money for the tax payer."
Building Lives was started by Lakehouse founder Steve Rawlings in 2010.
To put a young person through a Building Lives traineeship costs £4,000. On average eight out of 10 people on its Careership training programmes have subsequently gone onto jobs or apprenticeships.

Building Lives managing director Sian Workman said: "In order to continue operating for another year, Building Lives needed £900,000 to deliver 380 Careerships across four training academies based in the heart of London council estates. That's a drop in the ocean compared to how much money is spent for no guaranteed job outcomes. The bottom line is, although a Careership may not have fitted with existing government funding criteria, it led to real construction jobs, helping reduce unemployment and the skills shortage – ultimately, benefiting us all.
"I am deeply disappointed we have failed in our attempts to secure the financial support needed from government and the construction sector to continue. However, I am also incredibly proud of what the team has accomplished since Building Lives first opened its doors. Proud that we dared to be different and in the process supported more than a thousand people into construction careers. Proud that we genuinely tried to make a real difference to our society. And no matter what, that is something we will hold on to.
"We hope the legacy and learning left behind will assist other organisations to support people into construction careers. We would like to take this opportunity to thank all partners, stakeholders and friends for their support and commitment over the years. Together we have built many lives across London."
Got a story? Email news@theconstructionindex.co.uk