Think "new towns" and names like Milton Keynes, Harlow, Stevenage and Runcorn spring to mind. Modern towns with modern buildings arranged in a logical pattern within a landscape designed for modern lifestyles.
Most new towns are therefore totally unlike normal towns, most of which have evolved in an organic, haphazard way over decades or even centuries. Designed from scratch, new-town architecture can often appear monotonous and one-dimensional, creating a sterile environment devoid of charm.
That at least is the view of those who adhere to the concept of 'new urbanism', neatly summed up by Wikipedia as "an urban design movement which promotes environmentally friendly habits by creating walkable neighbourhoods containing a wide range of housing and job types".
In the UK, the best-known and most influential proponent of new urbanism is the Prince of Wales, a passionate critic of modernist "carbuncles" and the driving force behind Poundbury, an urban settlement built in the 1990s on land owned by the Duchy of Cornwall on the outskirts of Dorchester, the county town of Dorset.
Designed along traditional lines with a mixture of architectural styles that draw heavily on the vernacular as well as Regency and early Victorian styles, Poundbury looks, superficially at least, just like a typical English market town.
Although not everybody is a fan (the critic Jonathan Meades famously derided Poundbury as a "Thomas Hardy theme-park for slow learners") the new town is easy on the eye, has a pleasant atmosphere and – crucially for any developer – has not provoked an outcry from the nimbys of Dorchester.
Poundbury therefore provided a handy template for another, more ambitious, new development planned for Sherford, a 1,200-acre greenfield site in south Devon, 90 miles west of Dorchester.
Sherford was conceived over 20 years ago in response to a growing need for new housing in Plymouth and the South Hams, the mainly rural district that includes Dartmouth, Totnes, Ivybridge and Salcombe.
Devon County Council ruled out an urban extension of Plymouth as undesirable and identified the Sherford Valley, a few miles east of the city, as a suitable location for a new town.
Plymouth is a large urban centre with low average earnings and an acute need for affordable homes; the South Hams, in which most of the Sherford development resides, is a far more prosperous area, popular with moneyed visitors from 'up country'. In fashionable, sought-after Salcombe, more than half of the houses are second homes or holiday lets.
Building a town of 5,500 badly-needed new homes for Plymouth without harming property values and the tourist economy of the South Hams has proved a delicate matter for the three local authorities concerned: South Hams District Council, Plymouth City Council and West Devon Borough Council.
"We realised that we had to make Sherford something really special," explains Michael Hicks, South Hams District Council's lead member for Sherford. "And because of that aspiration we looked at Dorchester and thought 'what a good idea – we'll get the Prince's Foundation involved'".
The Princes Foundation for Building Community (to give it its full title) is a charity set up by Prince Charles to promote the principles of traditional urban design. Poundbury is its most famous achievement to date.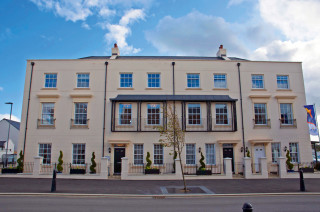 At the local authorities' request, the Foundation produced a concept design along 'new urbanist' lines and drew up a rigorously prescriptive Town Code setting standards of design and workmanship to ensure that the appearance, atmosphere and functioning of the new environment would not be compromised by corner-cutting builders more interested in executive pay and shareholder value.
The land was acquired for development by a group of investors called Red Tree, which steered the project through the planning process before selling the project in 2014 to a consortium of commercial house-builders comprising Taylor Wimpey, Bovis and Linden Homes.
Final planning permission was granted in 2015 and enabling works commenced the following year. The project – more than 20 years in the planning – will be at least another 20 in the building and, besides the 5,500 new homes, the project will include three primary schools, one secondary school, commercial retail and business premises, and various community facilities including a sports centre and swimming pool.
Sherford is a gift to the local contractors and suppliers but the existing construction infrastructure simply doesn't have the skills to meet the forecast demand.
Hence training and recruitment is a major challenge for the consortium which in 2015 set up the Sherford Skills Training Scheme in partnership with local providors City College Plymouth and South Devon College.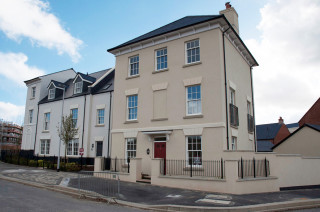 The scheme aims to provide training, work experience and long-term employment via local contractors working on the project and is open to all, from school leavers to experienced construction workers in need of upskilling or refresher courses.
Last month the Sherford consortium opened a £370,000 purpose-built on-site training centre where new recruits, as well as local contractors and those already working on the project, will receive basic construction skills training as well as courses tailored to the project's requirements.
Training is being provided by the consortium's delivery partners City College Plymouth and South Devon College, plus Plymouth Construction Training Group. The centre has also secured funding from the CITB over the next three years.
"Any large development needs a training element built into the plan," says Sherford's training co-ordinator Emma Comber, who will run the new training centre. She explains that Sherford is an important component in the Building Plymouth initiative, a council-led partnership "that connects local people with career opportunities in the world of construction and the built environment".
With its illustrious naval history, Plymouth is still heavily dependent on the MoD for employment. Approximately 12,000 Plymouth residents, of which an estimated 7,500 are serving defence personnel, depend upon the defence sector for work. But with the threat of massive cuts to the defence budget hanging over the city, unemployment is a big worry.
An important function of Sherford's new on-site training centre is therefore to provide a way into construction for ex-military veterans via a Level 1 construction skills certificate. This eight-week course allows trainees to sample a variety of manual construction skills including bricklaying, roofing, plumbing, carpentry and plastering. It is intended that 60% of trainees on this course will be ex-military.
The centre also offers a three-day health & safety behavioural module – a stepping-stone to CSCS certification.
On-site assessment and training (OSAT) NVQs are also offered. The OSAT route is a quick and easy means of assessing a trainee's suitability for a specific trade, and the Sherford centre will offer 22-week OSAT NVQ Level 2 courses in the core skills of bricklaying, carpentry, plastering, plumbing and roofing.
Also on offer is an OSAT NVQ Level 3 qualification, in the same core skills, and pre-qualifies the trainee for a gold CSCS card.
In addition to these courses, Sherford is offering a bespoke 10-day course designed to provide the specific skills required to achieve the standards of finish demanded by the Town Code. These include English bond brickwork, traditional roofing styles and traditional timber sash windows as well as the use of dry-lining and sealants.

"Normally, there's only one carpentry module on the basic training course but the Town Code means that all the windows are timber, so special training is required," explains Comber.
Access to the new training centre, though it is located on the Sherford site, is not confined exclusively to trainees working on the project. "Having said that, I expect that a lot of local contractors will want to get onto Sherford," says Comber.
Several local contractors have already benefited significantly from the project. The extensive earthmoving element is being undertaken by a new company created especially for the project by two local contractors working in joint venture.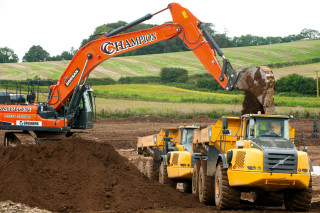 Steve Hoskins Construction and Fred Champion Groundworks, both based in Liskeard, Cornwall, set up Groundfix to carry out the main groundworks and infrastructure work on Phase 1 of the project. The influx of work has boosted the companies' incomes and in September last year, Steve Hoskins advertised 30 new bricklaying apprenticeships as part of the Sherford Skills Training Scheme.
Plymouth landscaping firm YGS Landscapes is also thriving thanks to Sherford, reporting a 45% growth in turnover and a staff increase of more than 20% since it started working on the project in 2014. With 62,000 trees, 200,000 plants and the town's 500-acre community park still to come, it's not surprising that YGS is optimistic about its future.
"Sherford has helped to grow the business, providing us with more resources and opportunities to train the next generation of landscaping talent," comments YGS managing director Steve Warren-Brown. "This includes taking on more apprentices – with some of their training set to take place at the new Sherford training centre – and providing them with the chance to work and learn on a live, large-scale construction site."
When 'concept' meets reality
Architectural niceties such as congruent proportions, coherent styles and high quality materials do not usually feature prominently on a British house-builder's list of priorities. But at Sherford, certain standards – and not just the Building Regs – need to be met.
These requirements, set out in the Town Code drawn up by the Prince's Foundation, include details not commonly seen in modern houses - such as high ceilings, timber-framed double-glazed windows and 'fancy' (i.e. traditional) brick bonding patterns.
Other features pertain to the public realm – such as wide streets with no on-street parking, and facilities such as shops located within walking distance. Getting people to walk more and drive less was a fundamental aim of the original design concept.
Sherford is therefore different from most housing developments not just in scale but also in its design and execution.
"You wouldn't find these homes on a normal house-building development," says Richard Darlow, projects director with Birmingham-based Brookbanks, the Sherford consortium's principal design implementation and construction manager.
"These houses take around 10 weeks longer to build than normal new homes," he adds.
Nevertheless the Sherford consortium clearly thought it could make a go of it when it took over the scheme in 2015. It wasn't long, however, before it lobbied the local planners to relax the stringent requirements of the Town Code to allow it to build faster and more cheaply.
Last summer Plymouth City Council rejected the proposals put forward by the consortium, only for South Hams (where most of the homes will be built) to overturn the decision and approve the changes.
One of the moot points was the requirement for timber windows – hated by volume house-builders and also, to be fair, by a lot of home-owners who don't want the hassle of maintenance.
Having built the first 120 houses with wooden sash windows, the consortium sought to persuade the planning authorities to allow PVCu substitutes in subsequent homes, producing a sample 'heritage' design for approval. "You really couldn't tell it was plastic until you got up close," declares South Hams councillor Michael Hicks.
Similarly, the original concept did not allow on-street parking; cars would be parked in special areas located behind the houses. The new proposal allows parking for two cars in every drive.
The backlash from the Prince's Foundation was vitriolic, with senior director Ben Bolger telling The Times that the local planning officers had "betrayed their own people". The new proposals, he said, would turn Sherford into a "normal, rubbish housing estate."
The consortium denies having compromised the original design concept, though it does acknowledges that changes will be made.
According to a spokesperson, "whilst the development continues to evolve, Sherford still maintains the important design principles established with the Prince's Foundation years ago".
Sherford Vale
As a new town with a population of around 12,000, Sherford will have no fewer than four schools; one secondary and three primary schools.
Construction of the first of these, Sherford Vale Primary, started in the autumn of 2017 and is now well advanced. The main contractor is Morgan Sindall.
Sherford Vale will be completed this summer, ready to welcome its first pupils in September, at the beginning of the new academic year. Over 400 places will be available for children aged two to 11 at the new £6m school, which is being funded by the Sherford consortium with £1m provided by Devon County Council. 
The school will be run by the Westcountry Schools Trust.
This article was first published in the May 2018 issue of The Construction Index magazine, which you can read for free at http://epublishing.theconstructionindex.co.uk/magazine/may2018/
UK readers can have their own copy of the magazine, in real paper, posted through their letterbox each month by taking out an annual subscription for just £50 a year. See www.theconstructionindex.co.uk/magazine for details.
Got a story? Email news@theconstructionindex.co.uk