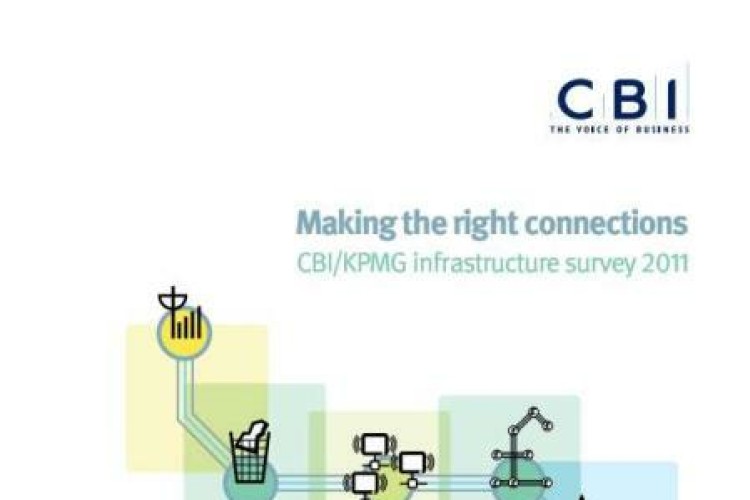 Investment in infrastructure would kick-start UK growth, says the report 'Making the right connections: CBI/KPMG infrastructure survey 2011'.  "Swift investment across Britain's road and rail networks, digital, waste and energy would ensure we remain internationally competitive and kick-start UK growth," the CBI said.
CBI director-general John Cridland announce the formation of a new CBI Infrastructure Board of leading CEOs and chairmen. He said: "I have asked the Board to produce a compelling new framework for the speedy delivery of resilient, smarter infrastructure, which will help restore the UK's competitive edge in the years ahead." 
The CBI/KPMG survey of 477 businesses, conducted in partnership with KPMG, shows that 58% rate the UK's infrastructure worse than other EU countries, when judged on quality, value for money and reliability. Just 26% of firms saw the UK as a favourable destination for infrastructure investment.
Last year's World Economic Forum Global Competitiveness Report placed the UK 33rd for quality of infrastructure, alongside Slovenia and behind Tunisia and Cyprus, says the report. But competitors France and Germany both made the top 10.

The CBI is calling for swift action to help secure critical business investment and urges the Government to raise its capital investment to pre-recession levels as soon as possible.
"This survey paints a disturbing picture," said Mr Cridland. "Firms across the country say that the infrastructure they depend on every working day is just not good enough and is stifling growth. High quality infrastructure swings boardroom decisions when companies are looking where to invest, and pays dividends in terms of future jobs and growth.
"The UK is still a long way down the international infrastructure league table and languishes behind key competitors. So, if we are serious about boosting exports - especially in emerging markets - and achieving sustainable growth, the Government must put infrastructure investment firmly at the top of its agenda.
"We need ministerial decisions that get spades in the ground and people working now. There are large amounts of business capital waiting to be unlocked if the Government achieves a step-change on transport, for example with the introduction of road tolls. Capital investment must return to pre-recession levels at the earliest opportunity."
Got a story? Email news@theconstructionindex.co.uk