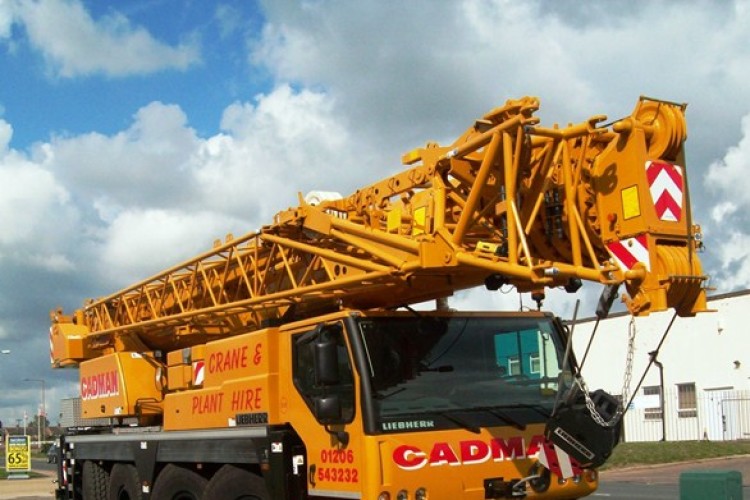 Cadman has a fleet of 22 mobile cranes, but this is its first Liebherr, despite the German manufacturer traditionally holding an approximate 40% share of the UK all terrain market.
Cadman's newest machine is a four-axle 8x6x8 all terrain crane with a 50m telescopic boom. Cadman has opted for a 9.5m-17m double wrap-around fly jib which can be offset to 0°, 20°, 40° and 60°. The fly jib also has an integrated 3.2m assembly jib that can also be offset to 0°, 20°, 40° and 60°. The assembly jib is designed to help out where head height is restricted, with the offset variances giving the operator extra clearance from the boom when lifting larger items at height.
A 38.3t hookblock with 3 sheaves and a 16.90t hookblock with 1 sheave have also been supplied. The 10.7t basic counterweight is augmented by an additional 3.8t of ballast.

The crane can lift 800kg at 44m radius. With maximum fly, it can lift 700kg to a height of 65m at 48m working radius.
The LTM 1070-4.2 is powered by a 6-cylinder Liebherr diesel engine rated at 270 kW. The automatic transmission has a 12-speed ZF AS-Tronic gearbox and the two rear axles feature hydro-mechanical speed regulated steering, which enhances manoeuvrability and reduces tyre wear. Crane drive is diesel-hydraulic with a servo control system and electric load sensing control; four simultaneous working movements are possible. The air-conditioned crane operator's cab can be tilted backwards for improved working visibility during lifts.
The LICCON2 crane control system comes with a BTT-Bluetooth terminal. Cadman Cranes' LTM 1070-4.2 also has some additional operational safety features, which include twin working floodlights, aircraft warning light, working area limitation and the LICCON lift planner system.
Got a story? Email news@theconstructionindex.co.uk