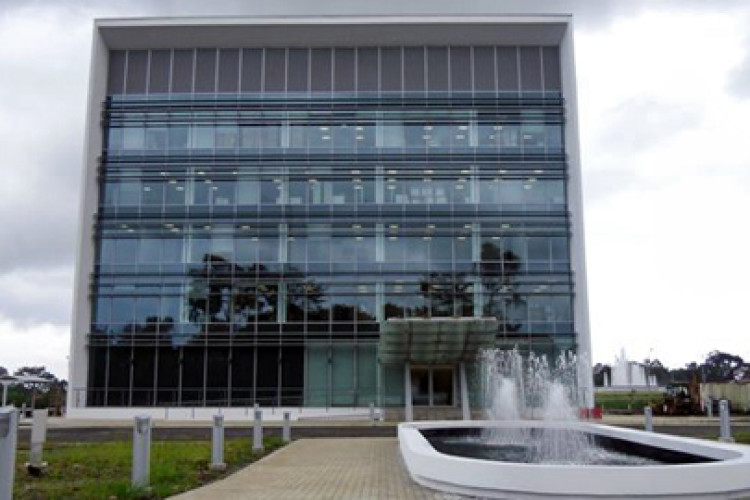 The building will be the HQ for three companies in the energy sector - Marathon Production Limited, Atlantic Methanol Production and Equatorial Guinea Liquid Natural Gas. It stands on Bioko Island within a newly created business development zone called Malabo Dos, located approximately 2km east of the country's main international airport and west of the country's capital Malabo.
The business zone is on a green field site on the south side of a new 5km highway that will link the Airport directly to Malabo City centre.
The office block is set on an east-west orientation, with a 'framed' full height glazed facade on the north and south elevations and solid walls on the east and west elevations. This approach has a significant impact on the reduction of running cost for comfort cooling, said Capita Symonds. The relationship between orientation and glazed areas has reduced the requirement for extensive sun-shading and will also modulate the amount of direct sunlight penetration and consequently minimise the heat gain.


Floor-to-ceiling curtain walling allows natural daylight to penetrate to the extremities of the deep plan offices and multi-purpose spaces. To help mitigate the resultant problem of solar heat gain and sky glare, fixed horizontal aluminium 'sun louvres' have been employed.
The building is located in a seismic zone within a rain forest environment without access to any public utilities. The water supply is provided from a borehole on site and rainwater will be harvested and collected in a reservoir for fire fighting and landscaping maintenance purposes. The building will be powered by generators and the site will have its own water and sewage treatment plant. 
Got a story? Email news@theconstructionindex.co.uk