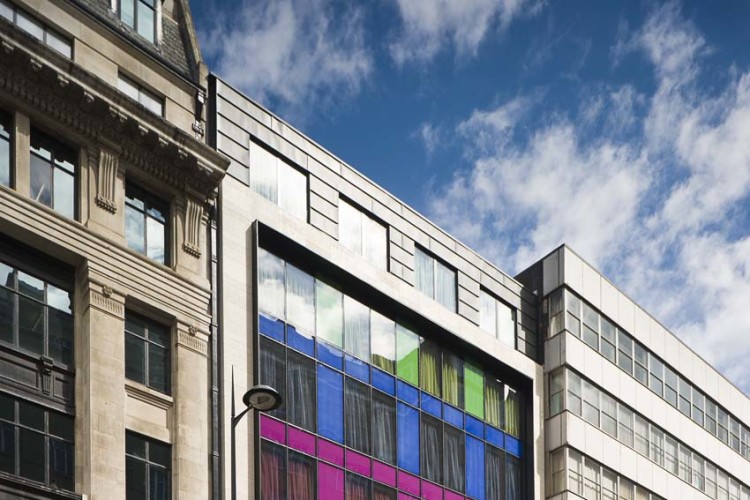 Designed by architects Falconer Chester Hall, managed by Sanguine Hospitality andbuilt by main contractor Denizen under a design and build contract, the developmentis part of InterContinental Hotels Group's newest brand – Hotel Indigo. It is only thefourth of these hotels to open in the UK, but due to the brand's success will be quickly followed by further developments in Newcastle, Birmingham and two additional London hotels.
With a high-profile city centre development, the building's aesthetics were of vital importance. Located on Chapel Street, one of Liverpool's seven original streets dating back to 13th Century, the new hotel has been built on the site of a former public guest house. With its historic surroundings, the creation of an exterior for the stunning new six storey build hotel that would blend with the local architecture whilst creating a modern statement was critical.
Colours, both external and internal, were specifically selected to draw inspiration from the building's historical involvement in the cotton trade. Using a combination ofglass and stone effect cladding, the facade draws on the building's past whilst retaining the visually stunning aesthetics that you would expect from a modern, boutique hotel.
Specialist contractor Eaga was contracted to install the facade, providing a definitive contrast between the stone cladding and decorative glass frontage. Carea provideda total of 200m2 of cladding, combining a stone effect Copacabana from its Ardal range and Acantha cladding in the darker grey 'Basalte' finish. The combination ofcolours was used to create a neutral cladding frame to further enhance the stylish multi-coloured glass frontage. Each Carea panel is formed using 90% naturalminerals and 10% binding resin to provide the perfect aesthetic solution for both the client and the designer.

Installation is quick and simple with the Carea facade system, as each panel is supplied with specialised horizontal rails that fit onto vertical cladding supports. Withprecisely routed grooves on the top and bottom, the simple fix provides a totally seamless finish to maintain the stunning appearance of the project. This installationgreatly assisted with the delivery of the scheme which faced significant logistical challenges due to restricted site within Liverpool city centre.
Once installed, Carea's panels will provide the hotel's owners, staff and clientele with a wide range of benefits including excellent thermal efficiency and the elimination of cold bridging. As well as these thermal qualities, the system also offers exceptional acoustic and aesthetic performance. Easily cleaned and requiring minimal maintenance, it is a highly economical cladding solution that will look good for years.
Following the installation of the Ardal and Acantha cladding systems, the hotel's stylish facade has helped to ensure it serves as a focal point for the redevelopmentof Liverpool's city centre. Opened in June 2011, and with a durable and stylish exterior, the stunning Hotel Indigo is expected to play an important role in the city'sfuture.
Got a story? Email news@theconstructionindex.co.uk