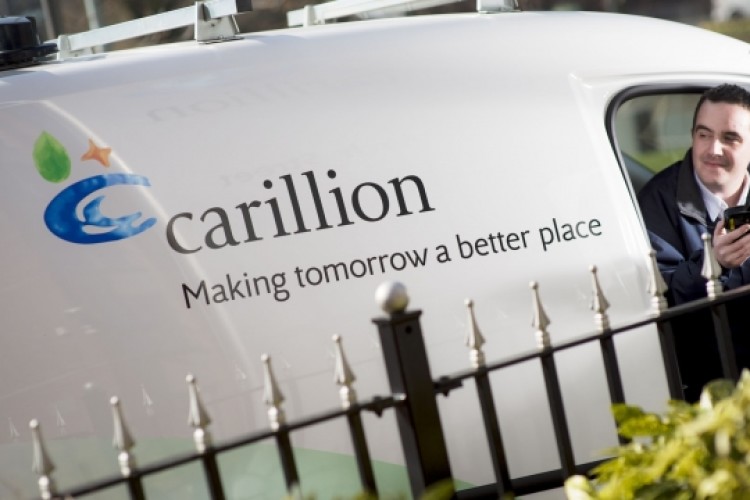 For the six months to 30th June 2017, Carillion made a pre-tax loss of £1,153m on revenue of £2.5bn.
There is no further damage to report on construction contracts, beyond the previously announced provision of £845m being booked for loss-making jobs, but there is a further £200m provision to cover losses on support services contracts.
There is also a goodwill impairment charge of £134m in respect of UK and Canadian construction businesses.
Underlying pre-tax profit was down 40% to £50.3m due to the phasing of PPP equity disposals and the trading of contracts with provisions at zero margin.
A further £75m to £100m is being spent restructuring the business in the second half of the year.
Interim chief executive Keith Cochrane said it would take three to five years to turn the business around.

He said: "This is a disappointing set of results which reflects the issues we flagged in July and the additional £200m provision for our support services business that we have announced today. We now expect results for the full year to be lower than current market expectations.
"The strategic review that we launched in July has enabled us to get a firm handle on the group's problems and we have implemented a clear plan to address them.  Our objective is to be a lower risk, lower cost, higher quality business generating sustainable cash backed earnings.  In the immediate short term, our focus is to complete the disposal programme, accelerate our action to take cost out of the business and get our balance sheet back to a place where it can support Carillion going forward.
"No one is in any doubt of the challenge that lies ahead. We have made an encouraging start and the ambition is there to build on that progress.  At the heart of this company, there is a strong core. Supported by an operating model that manages risk much more effectively and led by a fresh management team with a mandate to drive cultural change, I am confident that a strong business can emerge."
Total revenue is expected to be between £4.6bn and £4.8bn (previously £4.8bn to £5.0bn). Full-year average net debt is expected to be between £825m and £850m.
Carillion's pension deficit (net of taxation) reduced by £76m to £587m (31 December 2016: £663m), due to an increase in asset values and a reduction in inflation rates. Since the half year, Carillion has told the pensions trustee that discretionary increases in pension payments will be withdrawn and this will reduce the group's pension deficit by a further £80m. Carillion is also in discussions with its principal pensions trustee about basing future pension increases on CPI rather than RPI, which could potentially reduce the deficit by a further £120m.
Got a story? Email news@theconstructionindex.co.uk