The project will see the development of up to 10 buildings in 17 acres of land in the city centre between Centenary Square and Chamberlain Square. Carillion has been handed a contract for enabling works and first phase of infrastructure work.
The redevelopment of Paradise Circus is being undertaken through a joint venture company established in September 2013 between Birmingham City Council and British Telecom Pension Scheme (BTPS), managed by Hermes Real Estate Investment Management Ltd (HREIML).
Developer Argent will manage the design and delivery of the site works on behalf of the joint venture company, as well as being the development manager for BTPS for the commercial buildings.
Carillion chief executive Richard Howson said: "Paradise Circus is a crucial project for the city and Carillion is very proud to have been selected to be part of it. We are looking forward immensely to starting work on the site, supporting infrastructure and working alongside such an experienced and successful team."

Rob Groves, senior project director for Argent said: "The project is now moving forward very rapidly with activity planned to start on site later this year, on the first phase of the major redevelopment of this key part of the city centre.
"The appointment of Carillion as contractor, following that of Grant Associates as landscape architects, Glenn Howells as architects of the first building and the imminent results of an architects' competition for the design of the second, is a further indicator of the positive evolution of this game-changing development for Birmingham."
The client team also includes Drivers Jonas Deloitte, Peter Brett Associates, Arup and Faithful & Gould.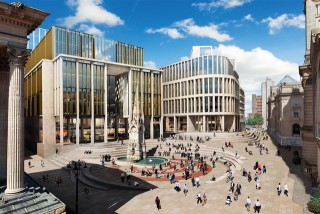 Got a story? Email news@theconstructionindex.co.uk