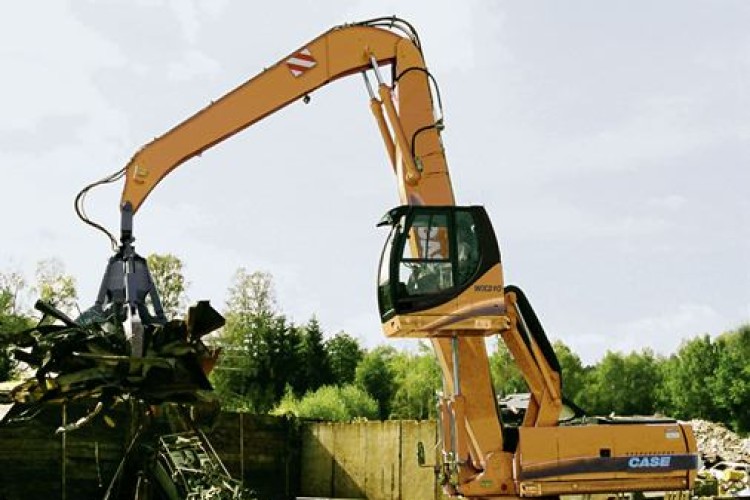 The Case line-up will include the WX210 Industry materials handler, the latest 821F wheeled loader and the recently unveiled SR150 skid steer loader.
The WX210 Industry is a wheeled material handling solution specifically designed for the scrap metal and recycling industries. Based on the WX210 wheeled excavator, the WX210 Industry is available with a choice of 2.5m hydraulically raised cab, or two fixed height cab settings that offer an increase of 800mm or 1300mm over the standard machine.
Customers can opt for a standard undercarriage width of 2.5m, or an optional heavy duty undercarriage with a 2.75m width. This gives stability at full reach in all working positions. The machine is equipped with a 6.8m straight boom and a choice of 3.8m or 5.2m dipper arms, providing a maximum reach of 11.8m and a maximum pin height of 13m.
The 821F wheel loader was launched by Case earlier this year. Rated at 227hp (168kW), it has a four-mode power control system so that the operator to choose the best output for each application. An optional five-speed automatic transmission with torque lock-up improves acceleration and travel speeds.

The F Series loader has stronger, faster hydraulics than previous machines. Customers can chose between a single servo lever control or an optional two-lever hydraulic control system for high productivity operations. Case F Series loaders are available with standard Z-bar loader arms or XR extra reach booms for high lift loading.
The SR150 is from Case's expanded line-up of skid steers, which includes six radial lift SR boom machines and three vertical lift SV models.
RWM, held in partnership with the Chartered Institute of Waste Management (CIWM), takes place at the Birmingham NEC from September 13-15.
Got a story? Email news@theconstructionindex.co.uk