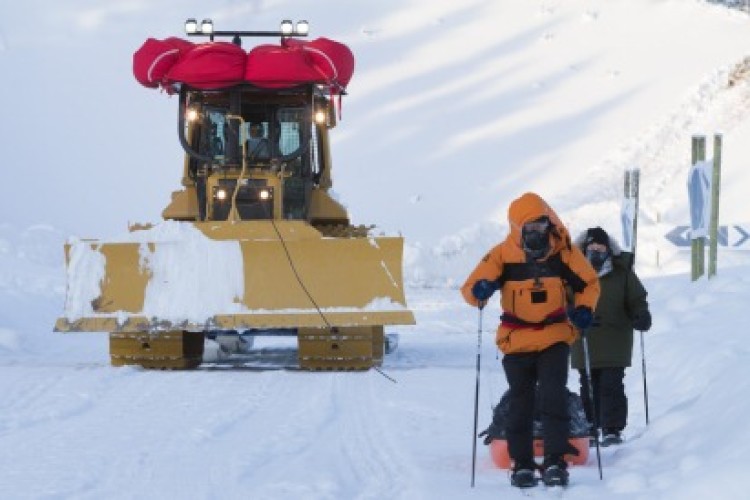 Sir Ranulph will be leading a six-strong team, which includes two Finning engineers, to travel nearly 4000 km in temperatures of up to minus 90°C. Previously, the furthest any expedition has ever ventured into Antarctica during the winter is 97km.
The expedition is using two D6N track-type tractor units from Caterpillar which have undergone extensive retrofitting to withstand some of the most hostile conditions on the planet. Each unit will be towing in excess of 55 tonnes of material, including cabooses (sledge mounted containers) for accommodation and conducting scientific experiments.
A team of Finning engineers, based at Cannock in the UK, has been working on the design and manufacture of the tractors to make them expedition ready. Extensive modifications include the creation of a fully insulated canopy which surrounds the tractors whilst maintenance is carried out,  a complete central heating system for engine and all fluids, as well as comprehensive insulation.
The tractors will carry all the spare parts anticipated for the six month expedition: they will also carry enough food for 12 months. Search and rescue by aircraft is impossible during the Antarctic winter due to darkness and the risk of fuel freezing.
Sir Ranulph said: "Having liaised with Caterpillar, who supplied the two factory D6N models, Finning engineers have been working with my team over the last two years on a comprehensive retrofitting task, designing the ultimate Antarctic machines. Of course, these units are nothing without an engineer to help keep them running, so in conjunction with Finning UK and Ireland, we put out a global call for volunteers."
The first Finning engineer to be appointed for the expedition is Spencer Smirl from Canada, who had to undergo a rigorous selection process that included practical and psychological tests with one of the D6Ns in Sweden, at temperatures of minus 40 degrees Celsius.  The second engineer on the team will be announced on Friday.
Mr Smirl said: "this is a once-in-a-lifetime opportunity that will test man and machine to the limits. Knowing I am going to be one of those people making sure the machines are working correctly is a huge responsibility, but one I am excited to take on. I am now training really hard to know everything about the D6N. I need to get to a stage where I could almost maintain one instinctively."
One of the expedition's main scientific aims is to understand the effect of global warming on the Antarctic continent. It is also aiming to raise more than £10 million for Seeing is Believing, a global initiative that helps to tackle avoidable blindness around the world. Additional sponsorship is still being sought.


The expedition starts on 21 March 2013 and hopes to raise £10m for Seeing Is Believing, a charity that helps to tackle avoidable blindness around the world.
Some key modifications of the D6Ns include:
- Specially designed fully insulated canopy with in-built escape hatch and access system 
- A completed central heating system for engine and all fluids 
- Comprehensive insulation package 
- Cooling system air flow package: extended and castellated grouser bars on the tracks for extra grip, including removable ice spikes to cope with climbing blue ice glaciers 
- Winch and towing attachment for pulling the cabooses 
- Combined crane and crevasse arm attachment on the blade
Got a story? Email news@theconstructionindex.co.uk