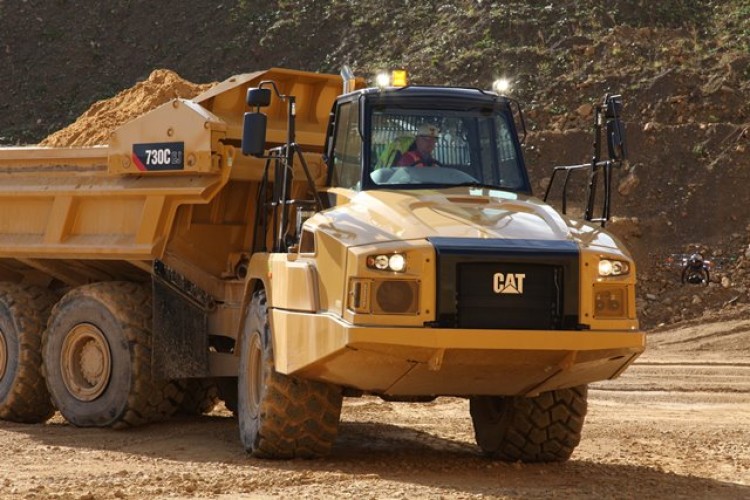 The new Cat C-Series of ADTs comprises three models: the 725C, 730C, and 730C EJ ejector.
The 725C has a rated payload capacity of 23.6 tonnes, and the 730C and 730C EJ models are rated at 28 tonnes.
All have new engines with more power, advanced transmission control, enhanced operator amenities, new serviceability features, and for the 730C and 730C EJ models, automatic traction control, the manufacturer says.
Compared with predecessor models, the 725C has a 4% gain in gross power and a 20% boost in gross torque, the manufacturer says. The 730C and 730C EJ models have nearly 16% more gross power and more than a 30% gross torque improvement.
The Cat 6F/1R power-shift transmission, which electronically modulates clutch-engagement pressures for smooth, positive shifts, now also incorporates Caterpillar Advanced Productivity Electronic Control Strategy (APECS). The APECS system is designed to improve acceleration, maintain torque-converter lock-up (and ground speed) during critical shifts and increases rimpull. It provides automatic speed-holding, modifies shift points to match operating conditions (for better fuel economy) and automatically reduces retarding forces on lesser grades in lower gears. The overall net benefits are optimum productivity and optimum control of the truck, Caterpillar says.
For controlling speed downhill, 730C models use a new engine-compression brake that provides 60% more retarding power than predecessor models. The 725C uses a fluid retarder with four operating modes. Both systems effectively manage speed and minimize service-brake application for extended brake life.
All three new C-Series models have full-time, six-wheel drive and are equipped with wet-disc-clutch locks in the axle differentials and the inter-axle differential.
Machine Specifications
| | | |
| --- | --- | --- |
| | 725C | 730C/730C EJ |
| Engine | Cat C9.3 ACERT | Cat C13 ACERT |
| Net power (kW) | 234 | 274 |
| Rated payload (tonnes) | 23.6 | 28 |
| Heaped capacity (m3) | 14.8 | 17.5 |
| Total loaded weight (kg) | 46,820 | 52,100 / 54,920 |
| Max. speed, fwd (km/hr) | 56 | 55 |
Got a story? Email news@theconstructionindex.co.uk