Avondale is using two new Cat 950H high-lift wheel loaders with high tip buckets (pictured below) and a Cat M318D excavator with a Cat G315B sorting grab. These units were supplied by distributor Finning with full repair and maintenance contracts tailored to meet the site requirements.
The £20m Polmont plant was officially opened in February 2012 and is capable of processing 200,000 tonnes of waste every year.
Avondale operations director Stuart Egan said: "Having developed the new site, it was important for us to match the mobile plant and equipment to the overall waste handling process, to ensure the highest productivity levels.
"As part of the equipment selection process we approached a number of equipment providers. The team at Finning were able to demonstrate a full equipment solutions package to us, matching up the work tools with the machines to optimise performance.


"The specifications and capabilities of the units were clearly important, but we also wanted to have the reassurance of uptime and service support. It was really a solution approach that we were looking for and Finning came to the table with not only the equipment, but a service package to support our needs."
Finning product support manager Alan Daley added, "Customers are no longer just focused on equipment, it is about the delivery of a process in the most efficient manner and this is why Avondale wanted a mobile solution. By having a great deal of experience in the waste sector with similar businesses across the UK, we are able to understand the challenges Avondale have and therefore design an equipment, work tool and service solution, that supports the business aims.
"Being involved from the start in such an innovative project is very exciting, as the facility itself represents a major investment and step change for Avondale as a business. Having worked with the team for some time, supplying equipment to their landfill site including, a Cat D7R, Cat D6 waste dozer and a Cat 963D waste track loader, it is great to be able to build on that relationship."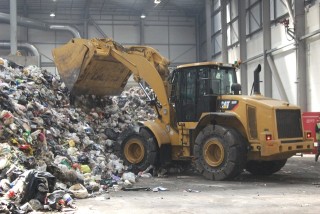 Got a story? Email news@theconstructionindex.co.uk