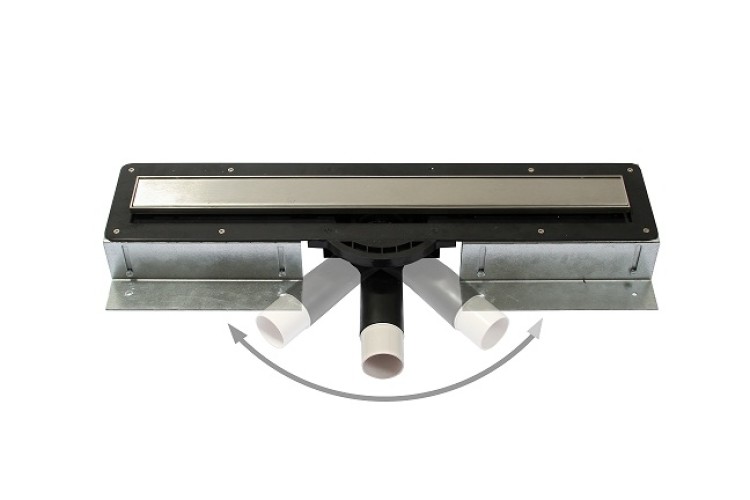 At a height of only 67mm, the drain ensures that even the highest of water flow rates can be achieved and managed effectively on concrete floors, which are widely used in the construction of modern houses.
With the shallowest trap available in the UK, the Linear Screed Drain is ideal for the upper floors of a building where the insulation and concrete screed is much shallower in depth than the ground floor foundations. The drain incorporates a unique waterless trap, which is formed of a spring-loaded mechanism and keeps the trap sealed when not in use. This ensures that even when the shower is left unused for prolonged periods, the trap cannot dry out, making it ideal for situations such as guest en-suites, holiday properties or student accommodation.
The smart design of the linear trough also allows the waste position to be rotated through 360, to avoid all obstructions under the floor and enables easy installation in all sizes and configurations of wet rooms. Plus, thanks to a uniquely adjustable stainless steel grill, any size or depth of stone, tiles or marble can be used alongside the grill, without the need to raise the whole floor. 

In addition, bespoke grill lengths can now be manufactured for use with the Linear Screed Drain to meet a customer's exact needs.
The Linear Wall Drain is a development of the Linear Screed Drain and incorporates all of its key features but has been designed with the grill positioned flush against the wall, so there's no need to stand directly on it. It can also be used effectively with the new Modular Wet Floor System. 
Howard Ball, Sales & Marketing Manager at CCL Wetrooms commented: "We are delighted to be launching our new and extended range of flexible linear drainage systems. As a market leader in our field, we are committed to developing and manufacturing wetroom systems that provide effective solutions for architects and specifiers that overcome the challenges associated with installing a wetroom.
Got a story? Email news@theconstructionindex.co.uk