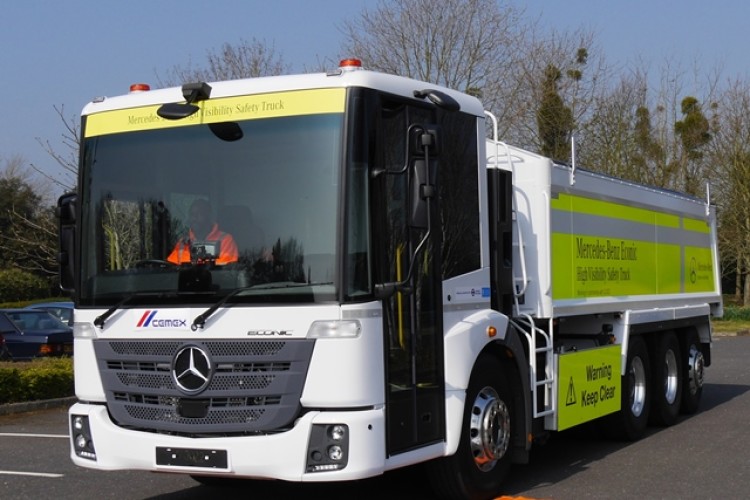 The Econic gives the driver a wider field of vision, with a deep panoramic windscreen, a fully glazed floor-to-ceiling kerbside door and a low-entry cab.
The low-entry cab has just two steps from ground to cab and with a low driving position means that the driver is on the same level as pedestrians and cyclists, meaning direct eye-to-eye contact between the driver and other road users.
The floor-to-ceiling door, which opens 'bus-style' into the cab, allows the driver to see any cyclist who may have cycled up the nearside of the vehicle, a vulnerable position for a cyclist.
Cemex has worked with Mercedes-Benz to ensure that the vehicle meets the current CLOCS (Construction Logistics & Cycle Safety) standards and is fitted with the cyclist safety features of existing Cemex tippers, concrete mixers and cement tankers, such as additional mirrors and signage.


The Econic tipper will be based at Cemex's Angerstein Quarry near Dartford and will supply sand and gravel across London.
The tipper is fitted with a Wilcox Wilcolite insulated smooth rigid tipping body and is designed to take a payload of 20 tonnes, the same as a standard tipper.  Previous high visibility design vehicles have had capacities of around 16 tonnes.
Cemex vice president Matthew Wild said that the Econic gave more than 90% extra visibility compared to other trucks.
"Cemex and the construction industry have a responsibility to look at the design of the vehicles that are used day-in and day-out and are an integral part of the business," he said. "This new design could completely revolutionise the design of the construction vehicle of the future."
Got a story? Email news@theconstructionindex.co.uk