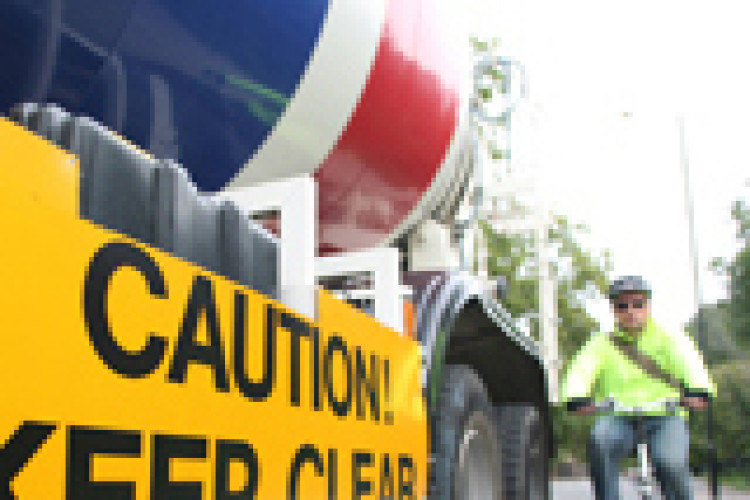 Cycling – and the safety of cyclists – has shot into the public conciousness in the last few years.
The environmental and health benefits, congestion on roads, rising fuel prices, corporate incentives schemes like Cycle-to-Work, improved road layouts, the British team's Olympics medal haul of 2008 – all have contributed to a steady rise in cycle use. In London, there were 70% more cyclists on the capital's streets in 2010 than the previous year, according to Transport for London.
But cycling can be dangerous – over 17,000 cyclists were injured and 111 killed on UK roads in the same year.
And the villains of the piece are invariably the drivers – particularly truck and lorry drivers, which account for one in five cycling accidents.
"Many cyclists have this superior attitude: I'm helping society by not being in a car, so you need to get out of the way for me – and that means they think they can do whatever they like on the road," sighs Jason Stockham,one of Cemex's readymix drivers. "But it makes things very difficult for us, not to mention dangerous for the cyclists."
Cemex operates over 400 vehicles which transport cement, aggregates and ready-mixed concrete.
None of them have had a fatal accident involving a cyclist yet – but the firm is taking no chances.
During the last decade, Cemex embarked on an ambitious programme to improve safety for cyclists.
As well as making numerous safety improvements to its fleet of vehicles, Cemex has held open days for cyclists, to make them aware how difficult it is for a cyclist to be seen from a driver's cab.
It has even organised cycling training for its HGV drivers – so that they could see the road from the cyclist's perspective – delivered by CTC, the UK's national cyclists' organisation.
The campaign has been supported by key bodies such as Transport for London and the Metropolitan Police, who regularly attend Cemex's cyclist open days. In 2009, it held 30 events, attended by over 3,000 cyclists nationally, with a further 1,800 attending events the following year.
Paul Clarke, Cemex's fleet logistics manager, says cyclists always find the events an eye-opener.
"The most frequent area of accidents is the blind spot at the front of the cab; cyclists come up the side of the truck when it is turning left," he explains.
This blind spot is now visible for drivers thanks to a combination of four mirrors fitted as standard on all Cemex vehicles.
"But it is still worth demonstrating to cyclists what our drivers experience," says Clarke. "We did a demonstration recently at Wellington Arch, and a cyclist sat in the cab while I worked around the blind spot. She couldn't see me at all. When I returned to the cab, she said, 'I'll never cycle down the side of a truck again'."

Of the four mirrors, one of these – the Class 6 mirror at the front of the cab – has been a legal requirement since 2007.
But everything else has been introduced by Cemex based on its own efforts to improve the safety of its trucks – over and above legislation, says Clarke.
Besides the mirrors, other safety measures include: a cyclist warning sign at the back of the truck; a caution sign down the side; a safety bar to prevent cyclists or pedestrians accidentally falling underneath; and a proximity censor system to detect movement close to the vehicle, developed with Brigade Electronics. The system alerts drivers when cyclists come up close to the vehicle, but switches off at high speed when there is no risk, for example, on motorways.
Cemex vehicles also have reversing cameras, which is a requirement for all quarry operators.
One problem for the construction sector in addressing cycling safety is the lack of an industry-wide standard.
Some clients have their own particular requirements. Crossrail, for instance, runs a very strict regime and has turned away some delivery trucks from sites. It requires that HGVs are fitted with side scan equipment, under-run guards to prevent cyclists from coming into contact with lorry wheels, and warning signs.
It also insists on Fresnel lenses in the passenger side window which aim to magnify the blind spot, though Cemex's drivers have not warmed to them.
And having too many gadgets can bring about its own problems.
"The more devices you have in the cab – whether it's mirrors, screens or other safety measures – the more chance of the driver being distracted from looking out of the windscreen!" points out Stockham.
The Mineral Products Association and the Freight Transport Association have their own guidelines, but Clarke thinks it may be unrealistic to enforce an industry-wide standard given the number of independent owner-drivers.
"Our truck fleet is operated by owner drivers, with tippers and readymix trucks Cemex owned," he says, "Whenever the driver gets the vehicle, it comes standard with all these safety features. That may not be realistic or affordable for everyone.
"It would be helpful to have a standard for certain types of construction site – central London for instance – where the risk is much higher. It may be the MPA or contractor trade bodies need to look at this."
Meanwhile, the House of Commons Transport Select Committee is examining the issue, pressured in part by a high profile campaign from The Times newspaper.
The paper began the campaign following the death of one its reporters in a cycling accident. It has an eight-point manifesto, which includes a call for all trucks entering a city centre to be required by law to fit censors, audible truck-turning alarms, extra mirrors and safety bars to stop cyclists being thrown under the wheels.
Cemex ticks all those boxes already. The time may come when all aggregates hauliers have to do likewise.
Got a story? Email news@theconstructionindex.co.uk