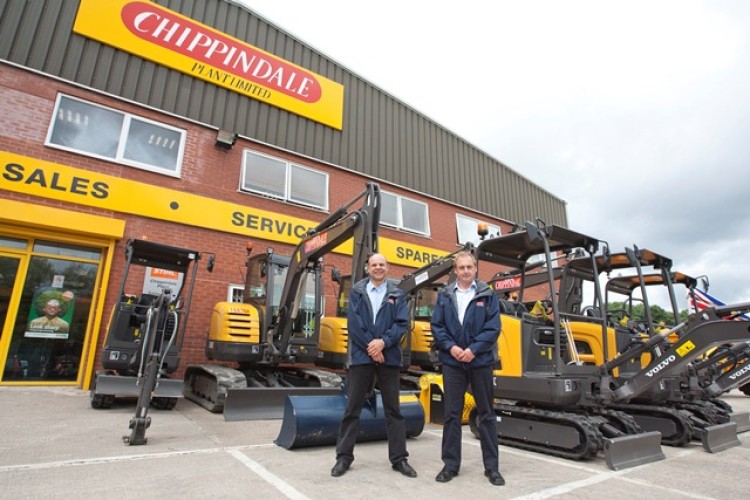 The deal includes eight EC15Cs, six EC27Cs, four ECR48s and four ECR88s, which will be distributed among the family-owned firm's seven depots, boosting availability throughout Yorkshire and the northeast.
"After the last five years of making painful decisions to consolidate our entire machinery fleet, lose staff and find ways to make the business much more streamlined and efficient, we have finally turned a corner," said joint md Nigel Chippindale, who looks after the business' hire and sales operations, while his cousin Peter Chippindale shares the role of md, handling business finances and general operations.
"The difficulty has been maintaining business stability without having an impact on the level of service we provide for customers," he added. "We are seeing slow, but steady signs of recovery and the time is now right for a modest increase to our fleet, in addition to replacing of some of our older models."
After a period of restructuring, the Yorkshire sales and hire business has been gradually growing and its recent acquisition of Ambrose Hire's northeast operation has expanded the company to Newcastle. "The City of Newcastle is where we can see additional business developing," added Nigel Chippindale. "It's within 40 miles of our Catterick depot, making logistics for this new branch an easy step to manage."

The 22 new excavators form the basis of Chippindale Plant's compact equipment hire package, which sees the majority of customers requesting a selection of buckets and breaker with each machine.
"As hire rates get squeezed and capital costs increase, our fleet replacement policy has had to be extended," said Peter Chippindale. "However, the cost to maintain our Volvo fleet has reduced, due to greater durability and overall reliability despite being kept for much longer. And the extended fleet replacement policy has proved the Volvo fleet to be a sound investment," he said. "They are robust, reliable and straightforward machines that have proved to be a valuable asset on the balance sheet."
Got a story? Email news@theconstructionindex.co.uk