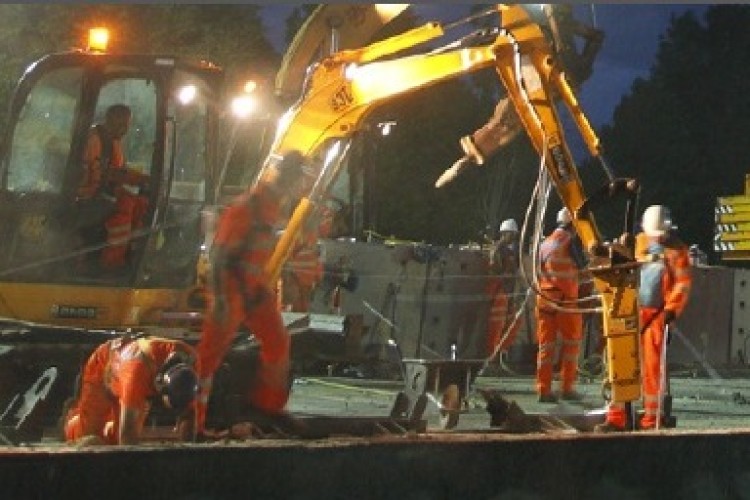 The association has set out is position for lobbying purposes, in a bid to persuade governments to provide more money for civil engineering contractors.
The publication, Infrastructure: the Routemap for Growth, will be used by CECA in its meetings with MPs and other political figures during forthcoming party conference season, and in the run-up to the Chancellor's Autumn Statement.
CECA director of external affairs Alasdair Reisner said: "Our members have told us the steps that government can and should take now to get the economy back on track and return UK plc to growth.
"Governments in Westminster, Holyrood and Cardiff have all published plans which recognise the importance of infrastructure to the economy, and have begun to prepare the ground for long-term investor confidence. Infrastructure: the Routemap for Growth sets out the steps that must be taken to ensure these plans are delivered.
"Too often the overriding need for infrastructure is blocked by short-term politics. We want to see all sides recognise that the vital need to improve the UK's transport and utility networks should rise above party politics.
"We also want to see future investment in infrastructure more evenly balanced across the UK, helping to rebuild local economies throughout the country. To do this, we will need to attract new forms of funding and finance, something that can only be achieved with appropriate models in place.
"Finally, where there are opportunities to deliver more direct boosts to growth and industry activity these must be grasped. CECA is asking the government to direct new resources through existing infrastructure repair and maintenance contracts to provide an immediate shot in the arm to the economy."
 CECA's recommendations include:
• Provide immediate short term funding to boost shovel-ready repair and maintenance activity
• Rebalance infrastructure investment throughout the UK
• Develop cross-party consensus on nationally-significant infrastructure policy and a long-term delivery programme
• Ensure appropriate finance and funding models are in place to meet future investment needs
• The implementation of a local infrastructure funding model to develop programmes of work rather than delivering projects on an ad-hoc basis, and to share the costs of infrastructure investment among all who benefit
• Extending borrowing powers to the Scottish & Welsh governments, including the ability for the Scottish government to issue bonds
• Local Enterprise Partnerships in England to be asked to focus more on the delivery of infrastructure to boost growth
Roads
• Create a settled long-term strategic roads investment programme
• Establish a 'pro-active' maintenance regime for roads based on whole life value
• Commit to a programme for the nationwide roll-out of ultra-low emission vehicle infrastructure
Rail
• Build upon recent improvements in rail procurement to implement collaborative models of delivery across the sector
• Use greater visibility of future investment to secure a highly performing, globally competitive rail supply chain
Energy
• Commitment to a long-term UK energy policy which does not deter badly needed investment


• Maintained focus on policies to ensure the first new nuclear power stations in England & Wales begin generating electricity from 2020
• Close scrutiny of the UK Renewable Energy Roadmap to ensure the 2020 target is met
• Effective management of shale gas extraction through the implementation of operational best practice, enforced through regulation
Water
• Commissioning of a feasibility study to consider options for bulk transfer of water across the UK
• Smoothing of investment in the water sector to remove current boom-and-bust cycles
• Implementation of uniform site water skills standards
• Mandatory sustainable drainage to reduce flooding risk
Procurement reform
• Funding for public bodies should be linked to their implementation of best practice principles for procurement
• Steps should be taken to streamline pre-qualification through the adoption of industry-developed standard questionnaires
• Framework contracts should be procured in a way that does not disadvantage some contractors over others
Workforce
• Provision of full funding for civil engineering apprenticeships at all levels, regardless of age
• Increased funding for up-skilling and qualifying the existing workforce to aid retention and enable work in new and emerging markets
• Expansion of the pre-apprenticeship model plus wider rollout of the shared apprenticeship scheme to enable more businesses to train the next generation
• Creation of an infrastructure labour and skills demand model to provide accurate intelligence by specialism and locality
Safety
• Implementation of the recommendations of the Lord Young and Professor Löfstedt reviews
• The formation of an independent body to adjudicate in disputes involving breaches of health and safety legislation
Environment
• The consolidation of existing environmental legislation
• The creation of an oversight body to ensure uniform and appropriate application of environmental legislation
• The creation of a legal requirement for construction design to incorporate measures to reduce waste
Got a story? Email news@theconstructionindex.co.uk