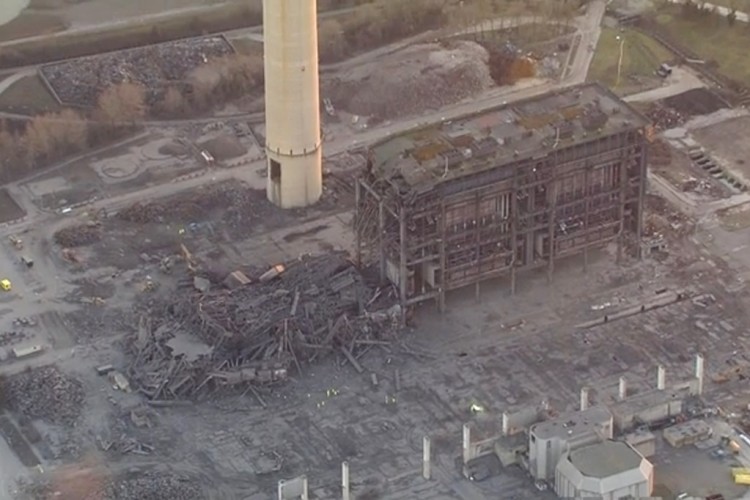 At time of writing, three people are unaccounted for but the instability of the remaining structure has hampered search and rescue efforts.
A further 50 people were treated for dust inhalation at the scene
There is no clue yet what caused the collapse. Eye-witness reports of an 'explosion' seem more likely to refer to the sound of the collapse, although explosives have previously been used to bring down cooling towers and other parts of the power station over the past couple of years.
Demolition contractor Coleman & Company has been working on Didcot power station for RWE NPower since March 2012. It has been clearing a wide variety of structures ranging from single storey office blocks through to the main plant to include the boilers, turbine hall, six cooling towers and a 200-metre high chimney. Work was set to complete later this year.
At the time of yesterday's collapse, Coleman & Company is believed to have been undertaking preparatory work for the controlled demolition of the boiler house.
It issued this statement after the incident:
"We can confirm that shortly after 4pm this afternoon part of the boiler house at the former Didcot A Power Station site in Oxfordshire collapsed.
"It is with great sadness that we understand that there has been one fatality, five people have been taken to hospital and three people are currently missing and unaccounted for. Our thoughts are with the families of all those involved in this tragedy.
"We will provide updates as we receive them.   
"We are working with the emergency services who are currently on site to locate those missing and understand the cause of this collapse."
A spokesperson for the Health & Safety Executive (HSE) said: "HSE inspectors are on site at the Didcot A Power station in Oxfordshire, following the major incident on Tuesday 23rd February. HSE are presently assisting the police and the emergency services. The thoughts of all HSE staff are with the family of the person who has died and the families of those affected by the collapse."
Read a previous reports on the Didcot demolition project at:www.theconstructionindex.co.uk/news/view/didcot-towers-come-down
Got a story? Email news@theconstructionindex.co.uk