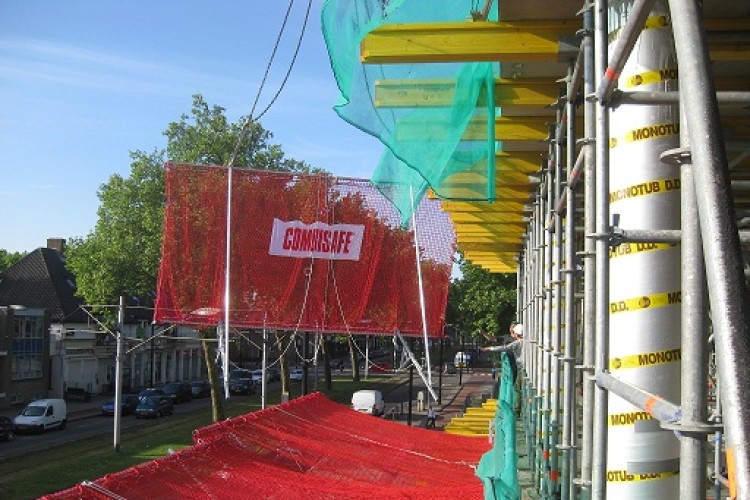 Faced with the logistical constraints of this busy 'island' site where safety measures were vital to protect pedestrians around the ground level, leading provider of safety solutions Combisafe specified its Safety Net Fan.
Designed by architect agency Massa for Havensteder (previously Com Wonen) , 't Slag (The Cover) is a 2500 sq metre multi-use building which fulfils a number of public functions in the southern Rotterdam district of Vreewijk.  Consisting of a library, child care centre, health facility, brasserie, and outdoor playground, the building and its location is at the very heart of the community.  For the construction of the building, it was essential that the safety of the site operatives was addressed as well as the protection of pedestrians on the footpaths and around the exits of the busy metro station. With this in mind, Combisafe provided its Safety Net Fan - a safety solution which offers ideal protection for the public in such a compact inner city location.
The Safety Net Fan meets needs not covered by conventional methods of high-rise protection, safely catching items and debris by containing them and absorbing energy, which prevents objects bouncing off or breaking through. The versatility of the Safety Net Fan allows for easy repositioning and attachment; no other safety net offers this level of protection.
During the construction of the building, 6 units of the Combisafe Safety Net Fan were attached to the concrete formwork using the versatile Slab Attachment and Knee Brace.

With a projection of 3 metres from the building, the Safety Net Fan has been tested to comply with EN 1263 standard and can allow for falls of up to 7 metres.  The mesh density of the fall arrest net is 60 x 60mm and is delivered laced together with an extra fine 20 x 20mm debris net as standard. This combined net is able to catch considerably smaller particles of debris therefore protecting workers and pedestrians at ground level; making it the ideal safety system for this 'island' site.
'For our project ´t Slag, we searched for a solution that allowed pedestrians and cyclists to safely pass our construction site. Due to the ease of rigging as well as the flexibility of installation and relocation of the nets, Stebru Bouw chose the Combisafe Safety Net Fan. Evaluating the solution, we were very satisfied with the Safety Net Fan,' said Site manager Hendrik Jan Evertse of Stebru Bouw
For more than two decades, Combisafe International has set the standard in safety at height technology, delivering preventative and protective systems for the construction industry. The Safety Net Fan fits perfectly with the company ethos of designing solutions that eliminate or minimise the risk of working at height.
Got a story? Email news@theconstructionindex.co.uk