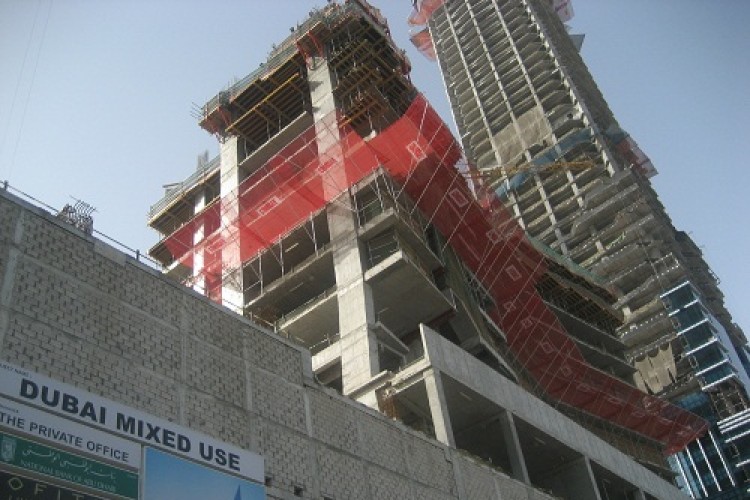 But building sites are not child's play and in a city where nearly a quarter of all the world's construction cranes are hard at work, safety while working at height requires even greater attention.  On the 49 storey twin mixed-use Towers, main contractor Arabian Construction Company (ACC) turned to market leader Combisafe for both a fall prevention and edge protection solution.
Sitting across a man made lake from the world's tallest building, The Burj Khalifa, and with dramatic views of the Persian Gulf, Dubai Mixed Use, designed by Fentress Architects, rise up to 210 metres and are suggestive of two dancers in rhythm with one another, one convex, one concave. For the construction of the two towers, it was essential that the safety of the site operatives was addressed as well as the protection of pedestrians around the busy ground level metro station. With this in mind, Combisafe provided three of its innovative solutions including the Steel Mesh Barrier the Safety Net Fan MAXI Extra Wide (EW) and Vertical Safety Netting System U.
Combisafe supplied 200 of its lightweight and versatile Steel Mesh Barriers. The forerunner in edge protection for over a decade, this temporary fall prevention system was used on formwork at leading floors.  Available in two standard sizes 2.6 metres and 1.3 metres, the Steel Mesh Barrier are essentially a guardrail, toeboard and netting rolled into one and has the added benefit of being able to span trades, accommodating their different edge protection needs at different phases of the construction project.
Offering protection for both pedestrians and the metro station below, the Combisafe Safety Net Fan MAXI EW was also specified by ACC because its 2 metre turned up section provides an extended catching width, making it ideal for windblown debris which in this case was caused by concrete operation as well as blockwork and cladding fixing .  Tested to comply with EN1263 and designed to withstand winds of 100 mph, the Safety Net Fan MAXI EW was supplied in both 4.2 metre and 6 metre units.
All components of the Safety Net Fan MAXI EW are interchangeable with the company's standard Safety Net Fan so that users enjoy complete versatility and simplicity of erection and dismantling.

On the Dubai Mixed Use, 80 of the Combisafe Safety Net Fan MAXI EW were assembled on the ground and then lifted into place by crane.  Used on two levels, each Safety Net Fan MAXI EW was then secured to the formwork slab by the versatile Slab Attachment.  Once in place the fans were joined together by a minimum 75 cm overlap at the narrowest point.
Combisafe also provided vertical Safety Netting System U on 20 floors to provide complete floor to floor enclosure preventing grout and plaster splatter on the metro station, pedestrians and traffic below.
"Combisafe rose to the challenge with a range of safety solutions which met our fall prevention and edge protection requirements" said Raed Khaled (Construction Manager) of the Arabian Construction Company.
Covering an area of 175,000 m² these eye catching buildings are another example of the visual excitement and construction efficiency so often evident in Dubai.
For more than two decades, Combisafe International has set the standard in safety at height technology, delivering preventative and protective systems for the construction industry.  The Steel Mesh Barrier, Safety Net Fan MAXI and Safety Netting sit perfectly with the company ethos of designing solutions that eliminate or minimise the risk of working at height.
Got a story? Email news@theconstructionindex.co.uk