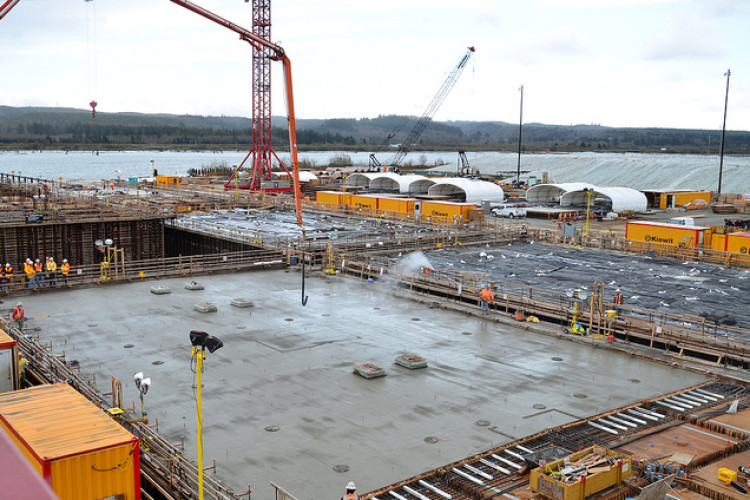 Float-out of the first six concrete pontoons for the new bridge in the US state of Washington will be delayed to allow time for repairs and modifications after damaged concrete was found in one of the pontoons.
Work is planned on four of the six concrete pontoons under construction in Aberdeen and is preliminarily expected to take four to six weeks to complete. As a result, the completed pontoons are not expected to be towed out of the casting basin until July or August, depending on favorable tides.
The Washington State Department of Transportation (WSDOT) is working with contractor Kiewit-General to analyse the cause of the damage and how the repair work might affect the construction schedule for the new floating bridge. Other SR 520 floating bridge construction will continue on pontoons in Tacoma, on anchors in Kenmore and bridge supports on the east side of Lake Washington.
"We have a plan, and by making these repairs and modifications before the pontoons leave Aberdeen, we can assure that the new SR 520 floating bridge will safely carry traffic for 75 years or more," said Julie Meredith, WSDOT SR 520 program director.

The damage was discovered May 11 after construction crews completed post-tensioning on a longitudinal pontoon measuring 110m long, 23m wide and more than 8.5m tall.  
Inspections of the first pontoon after post-tensioning showed damaged concrete where there was insufficient steel rebar reinforcement to hold the tendons in place. Crews plan to detension the steel tendons, remove concrete and add steel rebar reinforcement needed to contain the steel tendons. New concrete will be poured in the damaged area and allowed to cure before the steel tendons are retensioned.
Three other pontoons face the same issue though no post-tensioning work has yet occurred. Those pontoons will undergo preemptive modifications before steel tendons are installed.
WSDOT said that it is too early to say how much the repairs will cost or how costs will be assigned.
Got a story? Email news@theconstructionindex.co.uk