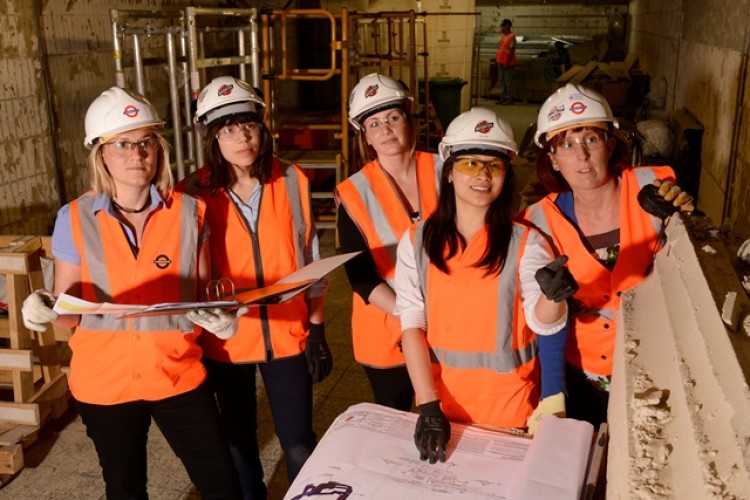 National Women in Engineering Day has been set up by the Women's Engineering Society (WES) to celebrate its 95th anniversary. The aim is to celebrate the work that women do in engineering, and to showcase the great engineering careers that are available for girls.
Bechtel has issued a call for companies to work with schools, identify role models and foster a working environment to help increase the number of women engineers. 
Aecom is doing just that and will today present at an event at Solihull College to encourage female recruitment in the sector.
And WSP has published the results of a poll of its female workforce identifying potential barriers to female recruitment.
According to Bechtel, only 6% of the UK engineering workforce is female. Aecom says the figure is 7%. According to WSP the figure is 8.7%.
In any case, all three regards themselves as having an above average gender balance.
Out of Aecom's 4221 employees (permanent and temporary) in the UK and Ireland, 1122 (27%) are female and, of these, 780 (69%) are engineers. In addition, 22% of places on leadership training courses in the year ending 31 May 2014 have been filled by females.
At WSP more than 20% of the engineering workforce is female and a high proportion are in the early stages of their career.  43% of female engineers of a recent internal survey were graduate rank and below, suggesting the number of women entering the industry is increasing.
WSP's survey of female engineers also found that:


49% think that educating teachers and careers advisers about engineering as a career will attract young girls into an engineering career
64% had engineering and science mentioned as a career choice at school
60% said there were no barriers to women entering the profession
65% say their gender does not limit their career progression
30% said there are fewer female engineers than males because they do not have the right qualifications.
Bechtel says that 25% of its UK workforce is female, including 14% of its engineering population.

In an open letter to mark National Women in Engineering Day, Peter Dawson, president of civil infrastructure at Bechtel, says: "According to the recent CBI report Engineering Our Future, women make up 46% of the UK workforce, but only around 15% of the core STEM (Science, Technology, Engineering, and Mathematics) workforce, which seems to be a missed opportunity for women and businesses alike.  Women are particularly under-represented in engineering, as only 6% of the UK engineering workforce is female.  Creating an inclusive environment in the workplace has shown us that diverse teams get better results and is good for business.  For example, working with our colleagues at Crossrail, we have found that the more diverse the team, the better they perform. 
"One quarter of our UK workforce at Bechtel is female, including 14% of our engineering population.  While we could take comfort that this ratio is greater than the national average of 6%, we do not.  We recognise that we need to do more to foster equality, and to showcase the great opportunities that a career in engineering can offer both men and women. 
"Encouraging more STEM teaching in UK schools is the first step to raising the number of female engineers and as a supporter of the government's Your Life campaign, to boost the numbers of women in engineering and technology, we have pledged to hold 24 outreach events this year at schools and universities across the country.  We are also working in collaboration with our customers, like Crossrail and Transport for London, as well as the supply chain to engage in this effort.   
"However, creating a gender-diverse environment and increasing the number of female engineers involves more than just STEM.  It is also about helping women to feel accepted and comfortable in a traditionally male-oriented sector.   We have a company group focused on gender diversity which involves both women and men, and we are rolling out training to raise awareness of unconscious bias which continues to permeate the industry.  This is already resulting in people having much more constructive conversations about specific actions we can take to improve inclusivity.
"I believe that we should all feel a personal responsibility to address this challenge.  Every company needs to act.  Positive steps can include working with schools, identifying role models, and fostering a working environment that helps people of all backgrounds to flourish.  Our industry will only benefit as a result."
For more details of National Women in Engineering Day, see www.nwed.org.uk.
Got a story? Email news@theconstructionindex.co.uk