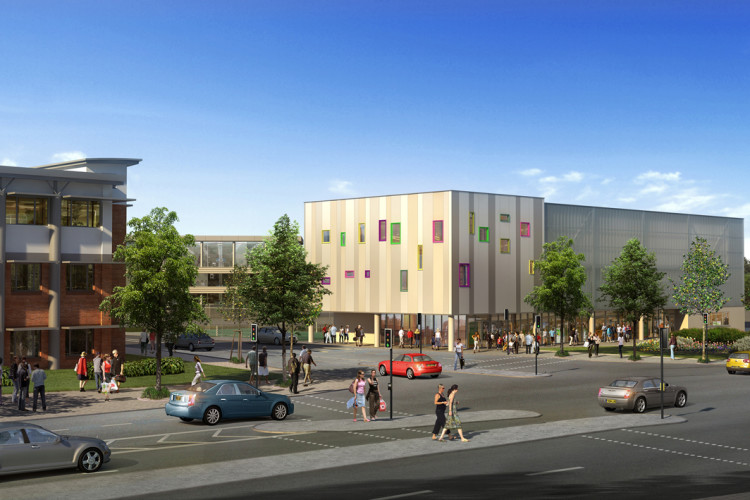 Construction work is now underway and the flagship youth centre is scheduled to open in summer 2012. The 17,000 sq ft 'myplace' centre will provide a wide range of innovative and much-needed services to 13 -19 year olds in the Longbridge area. Located off Longbridge Lane, 'myplace' is the first youth centre to be constructed in Birmingham for over five years.
Mark Batchelor, construction manager for St. Modwen said: "Longbridge is a hub of activity with the new Bournville College nearing completion, 115 houses and apartments being constructed at the Park View scheme, 'myplace' now underway, and we are also working towards construction work commencing on the new £70m Longbridge town centre.
"Within the range of facilities that we are creating at Longbridge, it is tremendous that a flagship youth centre for Birmingham is part of the mix. Many teenagers are not aware of the collapse of MG Rover nearly a decade ago and simply see Longbridge as a place of significant development activity and new opportunities, which is a great vote of confidence for what we are delivering here."
The development of the new youth centre has been made possible through a council-secured grant from the Government's myplace programme, which is funded through the Department of Education and administered through the BIG Lottery scheme, to invest in state-of-the-art facilities for young people across the UK.
Councillor Les Lawrence, cabinet member for children, young people and families for Birmingham City Council, said: "The 'myplace' centre will address the lack of dedicated facilities for young people in south west Birmingham and it will be a fantastic focal point of activities for local 13 – 19 year olds. The location of the site was chosen for its proximity to the new £66 million Bournville College campus, Longbridge train station and the site for the new town centre development, maximising accessibility and opportunity."
Julian Price, area manager at Morgan Sindall said: "Longbridge is a transformational regeneration project and we're delighted to be constructing this exciting new youth centre. We have a strong relationship with St. Modwen and Birmingham City Council and we are looking forward to working with them again on such an important project for the area.  

"'myplace' will make a positive difference to the lives of young people living in the local area and there is a huge amount of enthusiasm for the project from all involved."
The 'myplace' facility will play an important part in the long-term social, cultural and economic improvement of Longbridge, as there is currently no statutory youth provision. Providing a safe and welcoming environment, the centre will give young people the opportunity to participate in a range of activities and enterprise programmes, with the space to socialise and enjoy new learning experiences in preparation for their future. In turn, it is envisaged that this will have a positive impact on the ongoing growth and future prosperity of the area.
The building will feature multi-functional rooms, performing arts space, sports hall and conference rooms.  It will also include an ICT suite, music and media centre, workshop area, outdoor multi-use games area, café and garden. The new centre has been designed to meet a BREEAM 'Very Good' rating.
The facilities will support a range of sporting activities, creative and performing arts, active citizenship and volunteering, youth business, social enterprise, guidance counselling (such as health services), education, training and career advice. Based in the centre there will be a team of professionally qualified Youth Workers who will deliver the range of services to young people. The voluntary sector will be key partners in the delivery of the services. The partners currently include Catch 22, Birmingham YMCA, Worth Unlimited, West Midlands Police and Birmingham Federation of Clubs for Young People.
The 'myplace' centre funding was achieved by Birmingham City Council Youth Service, which has created a Young People's Forum to ensure young people's views have been central to the development of the new youth centre. The Forum has brought together representatives from local schools and was created to progress the design plans and engender a sense of ownership from the outset. It will be aligned to Birmingham Youth Service development plan, Birmingham Children and Young People's plan, Local Area Agreement indicators both for children and young people, and the Northfield Constituency Strategic Partnership. 
The regeneration of Longbridge is a £1 billion project covering468 acres and aspires to a total jobs target of 10,000 for the whole development through a diverse range of industries, together with a 2,000 new homes, a new town centre for Longbridge with a range of retail, leisure and public facilities and new parks and public open spaces.   
Got a story? Email news@theconstructionindex.co.uk