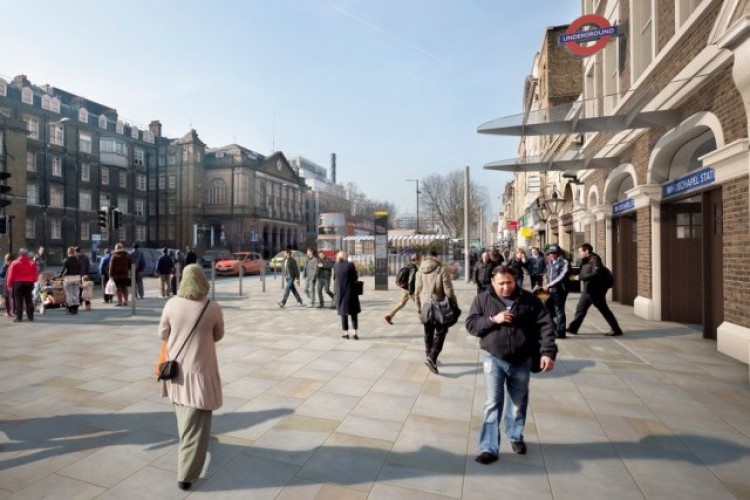 At a cost of £130m, some 31 rail stations in and around the capital are to benefit from landscaping.
The design proposals are still subject to consultation with local authorities and other stakeholders. They will be shown at the 'Crossrail Places and Spaces' exhibition at City Hall until 13th June, at the Royal Institute of British Architects from 16th June and The Building Centre from 21st July.
The initial proposals include 24 new station forecourts, 12 improved forecourts, 1,335 new cycle parking places, 328 new trees and 20 new pedestrian crossings. Designs for many areas include wider pavements, new pedestrian areas, paving, signs and road alterations to slow and reduce road traffic.
Crossrail Limited aims to raise and implement £90m of improvements by the time trains are running in 2018. The funding will be split three ways between Crossrail, Transport for London and third parties – mainly local authorities through developer contributions.
Tottenham Court Road station will have a new piazza and pedestrian links towards Soho; Farringdon will become a pedestrian priority area around the Cowcross Street entrance; and Abbey Wood will have a new upper level concourse.

At Bond Street station (pictured below) granite paving will extend out of the station concourse into Hanover Square, where four diagonal crossing points will be introduced with adjacent footways in matching materials.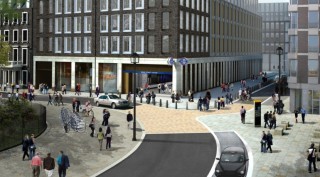 The exhibition will also feature Crossrail designs for 11 property developments to be built above Crossrail stations, which will deliver three million square feet of office, residential and retail space. This makes Crossrail one of London's largest property developers over the next five years. Crossrail is still seeking development partners for several of the schemes.
Crossrail chairman Terry Morgan said: "Crossrail does not just stop at the top of the station escalators. Crossrail will help to improve London's cityscapes, transforming the experiences of transport users. These urban realm proposals around Crossrail stations are well on the way to becoming a great addition to the project."
Crossrail says that this exhibition represents the first time that a major UK rail project has taken an integrated approach to the design of routes, stations, operations, over station developments and areas surround the stations.
Got a story? Email news@theconstructionindex.co.uk