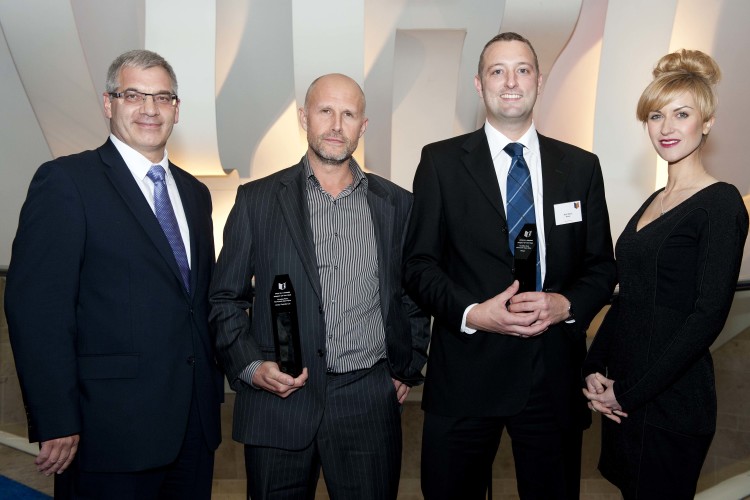 The Weber/Astley Facades project, Cruddas Park in Newcastle-upon-Tyne, was crowned Project of the Year for its dramatic transformation of five 1960s high-rise tower blocks offering improved thermal performance and reduced heating costs for residents. There were also awards for INCA members Alumasc Exterior Building Products; Sto/ Regency Plastering; and Structherm/ Westdale Services.
The conference hosted by leading Coronation Street actress Katherine Kelly welcomed more than 240 delegates from Local Authorities, Housing Associations, architects, consultants and contractors who found out how EWI can improve the energy performance of UK homes and businesses. Keynote speaker Paul Morrell OBE, the Government's Chief Construction Adviser, outlined the Government's Low Carbon Construction Action Plan and the opportunities it will present for the industry. Michelle Frew from the Department of Energy and Climate Change (DECC) gave an exclusive insight into the Green Deal in advance of the consultation on the draft regulations later this month and Nigel Dewbery, Head of Obligation Delivery at E.ON, explained how the new Energy Company Obligation (ECO) will support the installation of EWI in hard to treat homes.
The event also included an exhibition of the latest EWI technology by INCA members and the launch of the new INCA website at www.inca-ltd.org.uk showcasing EWI as the ideal choice for new build and refurbishment projects in the non-residential and domestic sectors.

INCA Chairman David Harrison said of the event supported by E.ON, HA Magazine and QA National Warranties:
"The huge success of the 2011 INCA Conference & Exhibition shows how INCA and its members continue to lead the way in the external wall insulation market. EWI has a bright future and the coming 12 months promise to be particularly exciting with the launch of the Green Deal scheduled for October 2012. This event demonstrated the crucial role that INCA members have to play in improving energy efficiency to meet the UK's carbon reduction targets."
Got a story? Email news@theconstructionindex.co.uk