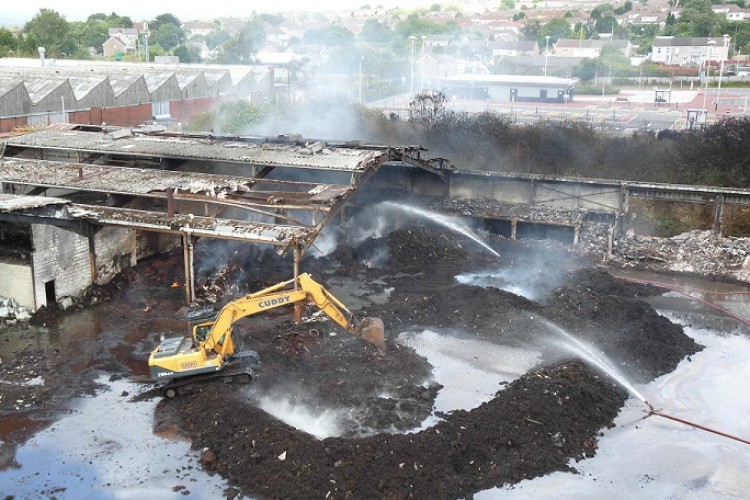 Cuddy has battled against competition from North and South America, Europe, the Middle East and Far East. The team of experts is in the running for:
•Contract of the Year for Cuddy's work following the Fforestfach fire at the former Mettoys factory;
•the Demolition Training Award which acknowledges Cuddy's dedication to continuously developing staff and enhancing safety standards;
•the Confined Space/Urban Demolition Award for Cuddy's clearance of the former Swansea City ground the Vetch Field; and
•Contractor of the Year, which recognises outstanding expertise, environmental management, financial performance, financial and schedule management, and client satisfaction.
Contractors large and small will gather at the award ceremony in Amsterdam on November 4, when the winners will be announced.

Speaking of the shortlist announcement, Cuddy Group joint managing director John Cuddy said: "This dedicated award scheme is designed to highlight the global leaders in the specialist field of demolition. The judging panel comprises some of the industry's most highly-acclaimed experts, and we've been told that competition this year was fierce.
"To be shortlisted in not one but four categories is therefore a great achievement, but we look forward to the all-important event in November, when we hope our hard work will truly be recognised.
"2011 has already been a great year for us having scooped demolition contractor of the year at the industry's Specialists Awards back in March, and being named the 9th largest contractor in the world. But to scoop one of these global accolades for the very first time would be a phenomenal achievement for us, especially as we continue to increase our international presence."
Editor of industry journal Demolition and Recycling International Lindsay Gale commented: "Despite holding the inaugural World Demolition Awards in 2009 at the height of the downturn, the initial event was a great success and the number of individual entries has continued growing year on year.
"We are delighted that contractors worldwide are increasingly taking advantage of the opportunity the awards offer to showcase their professionalism and expertise, not only to their demolition industry peers but the wider construction industry too."
Cuddy Group offers a turnkey regeneration service comprising asbestos removal, demolition, decommissioning, land remediation and civil engineering.
Got a story? Email news@theconstructionindex.co.uk