The past month has brought more positive news for the construction sector, as it mirrors - and indeed outperforms - the general improvement in the UK economy. The Office for National Statistics reported that output in January was 1.8% higher than in December 2013 and a full 5.4% better than a year earlier.  New orders in Q4 2013 were 1.5% better than the previous quarter. 
Needless to say, the stars were house builders as the Help to Buy juggernaut keeps pushing up demand, a gravy train that seems likely to run away into the far distance after the Chancellor extended the scheme to 2020. 
New home registrations were up 14% year-on-year in January and new housing output was 2.1% higher. Unfortunately, this indicates that other sectors had suffered a downturn, most notably infrastructure where there was a sharp reversal of 22% in orders during Q4, although this was against strong comparatives for the previous quarter. 
The further upturn in the UK is being matched by encouraging statistics from our near neighbours. In Ireland the new order intake in February 2014 kept the Construction Purchasing Managers' Index more or less at its previous reading just above 56, making six consecutive months of growth after the long years of savage decline. 
Construction production was up 1.3% across the whole of the EU in January and 1.5% in the 18 Eurozone countries. In addition to the extension of Help to Buy, last month's Budget brought other good news: the establishment of the £500m Builders' Finance Fund for SME builders intended amongst other things to kick-start the regeneration of social housing. In addition, the Planning Court approach to fast-tracking major planning disputes should help construction.  There was also a rash of short-term support measures providing £140m for flood defences, £270m for the Mersey Gateway Bridge project and £200m to fill in the epidemic of potholes. 
The companies we have analysed for this month's report are those demolition contractors with turnover of £3m or more in their latest published accounts.
Companies House records show that there are 703 UK-registered companies claiming that their principal activity consists of demolition work. But even setting the turnover cut-off point as low as £3m still produced a sample of only 25 companies, such is the fragmented nature of the sub-sector. 
The Company Watch research shows a level of profitability for the sector of 3.6%. This is broadly in line with other sub-sectors such as commercial builders (3%), M&E contractors (2%) and those specialising in the utilities and water sectors (also 2%). By contrast, it lags well below the 15% earned by plant hire companies, 13% by road builders and 10% by house builders.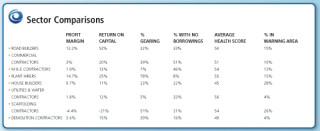 More concerning is the downward trend in profitability in recent years. Two years ago, the Construction Index analysed the accounts of the ten largest demolition companies, identifying an average profit margin of 4.9%, which was down from 5.3% the year before that. The indication from our latest research, whilst not strictly comparable because of the different sample size, is that profitability has fallen by a third in the past four years. 
The trade-off between risk and reward varies across the construction industry, particularly when profits and borrowing levels are compared. Average gearing is 39% for these 25 demolition contractors, and as the sector comparison table shows, this makes them more conservatively financed than plant hirers and scaffolders, but more highly geared than house builders, road builders and especially M&E contractors and utilities/water contractors.  Four of the companies (16%) have no external borrowings at all. The average return on capital is an acceptable but unexciting 15%. 
Looking next at the overall financial health of our sample, Company Watch calculates a health rating (H-Score) for every UK company, based on the interaction between seven key financial ratios involving profitability, funding and asset management. 
These are extracted from published financial information and processed through a complex mathematical model which compares this data with the characteristics of companies that fail and those that survive.  This produces an H-Score out of a maximum of 100.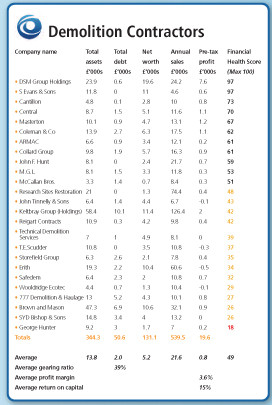 This article first appeared in the April 2014 issue of The Construction Index magazine, which can be viewed in full at: http://epublishing.theconstructionindex.co.uk/magazine/april2014
While the magazine is free to view online, a subscription is required to receive you own hard copy every month. This can be purchased for just £35 a year at http://www.theconstructionindex.co.uk/magazine
Got a story? Email news@theconstructionindex.co.uk