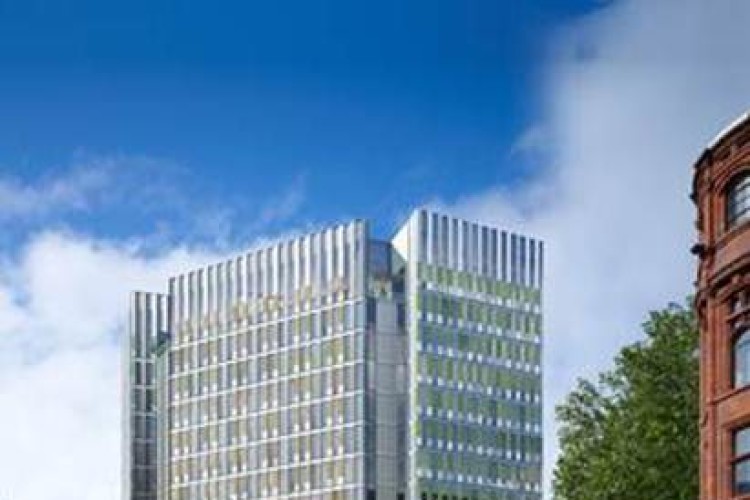 The 289,000 sq ft (26,800m²) redevelopment of the City Road Estate site includes 271,000 sq ft (25,200m²) of offices, 10,000 sq ft (900m²) of retail and 8,000 sq ft (700m²) of private residential accommodation.
Capital expenditure for the new scheme is anticipated to be in the region of £105m.
The planning permission from the London Borough of Islington includes full payment of the Crossrail levy and a significant contribution for off-site affordable housing, the developer said.
Centrepiece of the design by architects Allford Hall Monaghan Morris is a 16-storey office building that will incorporate Derwent's 'White Collar Factory' concept. This uses passive measures such as concrete-slab cooling and generous floor-to-ceiling heights to provide spacious, flexible accommodation that is economic to run and environmentally more sustainable than a conventional office building, it is claimed.

The main building will be complemented by a mixture of new and refurbished five- and six-storey office buildings targeted at technology companies that are being attracted to this area, which has been dubbed 'Silicon Roundabout'.
The existing buildings total 124,000 sq ft (11,500m²) - the new scheme represents a 130% increase on the existing floorspace.  Derwent is reviewing its strategy for the development, but it is likely that a marketing campaign will be undertaken to secure a significant pre-let before starting construction. 
Derwent London chief executive John Burns said: "We are delighted to have won this major planning consent, which follows closely on the heels of our recent planning success at 80 Charlotte Street, Fitzrovia W1.  The proposed City Road Estate scheme, incorporating our White Collar Factory concept, will be an exciting new project for the group at this up-and-coming location that is proving highly appealing to the technology and media sectors."
Got a story? Email news@theconstructionindex.co.uk