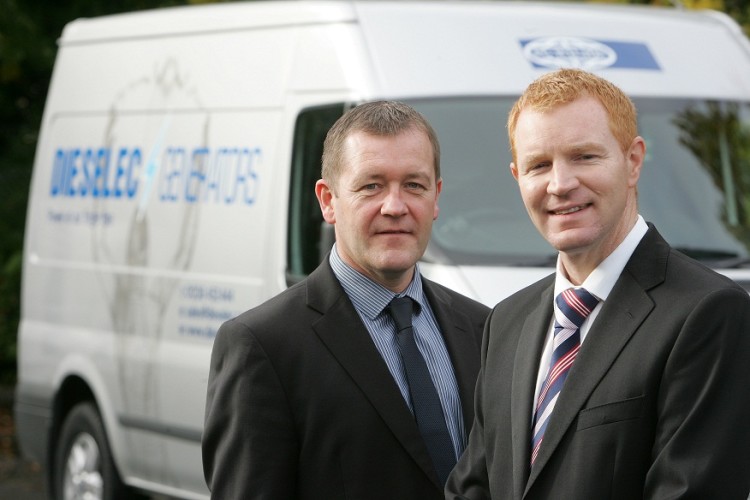 Now renamed Dieselec Thistle Generators the newly integrated business operates from new premises occupying a 6.3 acre site in Milngavie, Glasgow. The company specialises in supplying large standby electricity generators for a range of customers reliant on continuous power supply including hospitals, data centres and supermarkets.
With a 25,000 sq ft warehouse holding £500,000 worth of standard F G Wilson generators and ancillary equipment and an office and depot in London, Dieselec Thistle Generators can supply generating sets from 6 to 2,500 kVA.
The new company is now headed by managing director Paul Moore*  and sales director Brian Muirie from the Head Office , while Divisional  director Colin O'Neil and solutions director Pedro Araujo run the operations at their Southern Depot.
After leaving Thistle, Mr Moore helped transform Dieselec, then a very small business, into a major rival to his old employer. Last year, and with a fast-growing share of the market, Dieselec secured an investment deal with Nevis Capital LLP and mounted its successful takeover bid for Thistle.

"When we took over Thistle, Dieselec was under-resourced and Thistle was over-resourced" comments Mr Moore. "We have been able to integrate the two businesses extremely well and we now have a well-balanced and very efficient business" he adds.
With a majority share of the Scottish market already secure, Dieselec Thistle is now focusing on key markets south of the border. Already the company has secured  many major contracts in central London for major clients including Bank of China and Queen Elizabeth Hospital.
The company is on target to turnover in excess of £17 million in the current financial year.
Got a story? Email news@theconstructionindex.co.uk