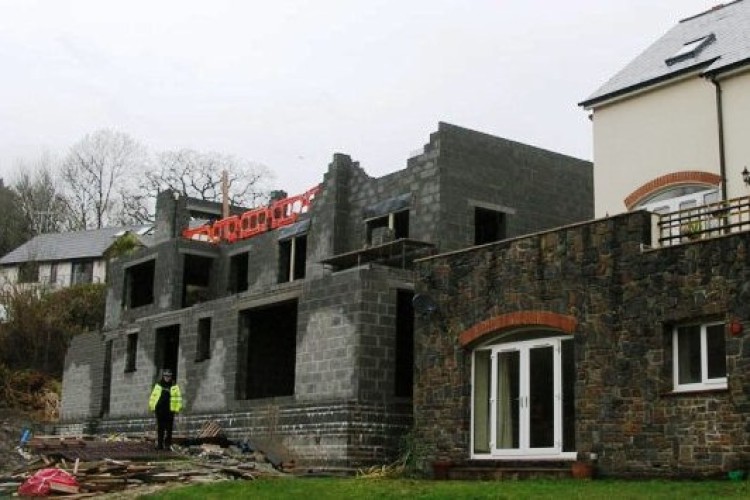 Karl Kraus, 31, from Pembroke Dock was employed by Preseli Construction & Maintenance Ltd, and was working on the build of a large house at Incline Way, Saundersfoot.
Haverfordwest Magistrates' Court heard that, on 25 March 2010, Mr Kraus was instructed to remove a concrete block that had been placed across a doorway. As he threw the block, he fell backwards on to the balcony and then seven metres to the ground below.
A Health & Safety Executive (HSE) investigation found that the three-storey house was being built without scaffold or any form of fall prevention.
Preseli Construction & Maintenance Ltd and director Christopher Newell had failed to ensure that work at height was properly planned and supervised. They also failed to ensure that it was carried out in a safe manner.
Mr Kraus spent six days in hospital where he underwent surgery to pin the bone in his left heel and was in plaster for 10 months.  His injuries have left him unable to work in construction anymore and further surgery is scheduled.

Preseli Construction & Maintenance Ltd of Waterloo Industrial Estate, Eastern Avenue, Pembroke Dock pleaded guilty to breaching Regulation 4(1) of the Work at Height Regulations 2005. It was fined £12,000 and ordered to pay costs of £2,376.25.
Christopher Newell of The Glebe, Narberth Road, Tenby also pleaded guilty to breaching Section 37(1) of the Health and Safety at Work etc Act 1974. He was fined £4,000, with costs of £2,376.25. Mr Newell is also disqualified from acting as a company director, managing or in any way controlling a company for at least two years.
HSE inspector Anne-Marie Orrells said after the hearing: "Falls from height are the single biggest cause of fatalities in the construction industry. If work is carried out at height then all appropriate measures should be put in place to reduce the risk of falling.
"Mr Kraus is still a young man whose life has been turned upside down after receiving significant long-term injuries in this incident. He is no longer able to do any of the simplest things that many people take for granted, like playing with his children or going for a walk in the countryside with his partner.
"This is a typical example of high risk work being conducted in an unsafe manner. Had scaffolding been put in place, this incident could so easily have been prevented."
Got a story? Email news@theconstructionindex.co.uk