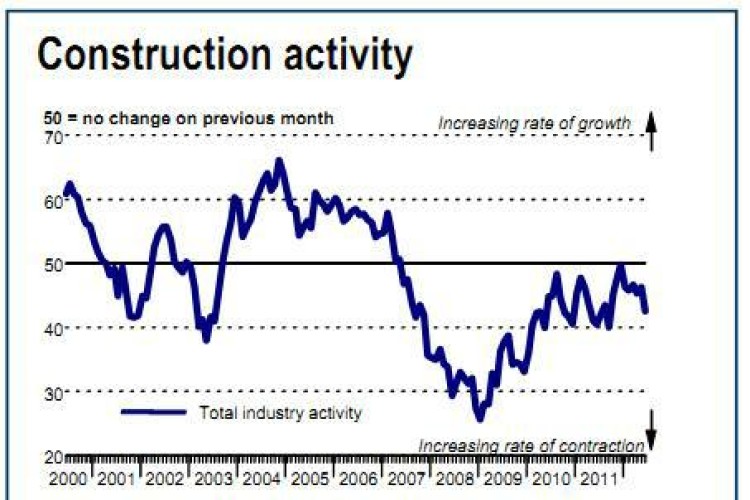 Activity declined at its fastest pace since September 2011, according to latest figures from the Ulster Bank Construction Purchasing Managers' Index (PMI).
In response to lower workloads, firms cut their purchasing activity and employment further.
There was some respite on the cost front as the rate of input price inflation slowed markedly and was only slight. But as demand for inputs decreased, respondents indicated that suppliers had opted to minimise their stock holdings, thereby resulting in delivery delays. Suppliers' lead times lengthened for the twelfth successive month, and at a solid pace.
The PMI is a seasonally adjusted index designed to track changes in total construction activity. It fell to 42.5 in June, from 46.3 in the previous month to signal the sharpest reduction in activity since September 2011. Figures below 50 indicate a fall.
All three monitored sectors posted declining activity. Work on housing projects fell more quickly than both commercial and civil engineering activity, although all three sectors posted an acceleration in the pace of contraction.
According to respondents, falling activity largely reflected weak demand. Commenting on the survey, John Fahey, economist, Republic of Ireland at Ulster Bank, said: "The June reading of the Ulster Bank Construction PMI shows that the construction sector continues to experience contraction in activity levels. The latest survey results represent an acceleration in the pace of contraction, with the total activity index falling to 42.5 in June, the fastest pace of decline since September of last year.

"From a sectoral perspective, the weakness was broad-based, with all three of the principal sub-sectors registering further contraction in activity levels. For the third straight month, housing activity suffered the sharpest contraction in activity compared to both commercial and civil engineering activity, although all three sectors recorded an acceleration in the pace of contraction. Given the continued contraction in overall activity levels, the construction sector remains in job shedding mode. The contraction in employment quickened slightly in June, with employment continuing to decline, as it has done in each month since May 2007.
"While construction firms continue to express optimism that activity levels will be higher over the coming 12 months, the new orders index, which is regarded as an important lead indicator, posted its fastest pace of decline since February. This represents the sixth consecutive below 50 reading on the new orders index and suggests that the outlook remains challenging for the construction sector over the coming months."
New orders decreased for the sixth month running and, in line with the trend for activity, the rate of decline quickened in June. Some respondents highlighted uncertainty among clients as the main factor behind the fall in new business.
Falling workloads led construction firms to lower their staffing levels again in June. The latest reduction in employment was broadly in line with those recorded in recent months. Job cuts have been recorded in the sector in each month since May 2007.
With activity declining further in June, Irish construction firms reduced their purchasing activity. Furthermore, the rate of contraction in input buying accelerated again, and was the sharpest since September 2011.
Construction companies were again optimistic that activity will be higher in 12 months' time than current levels, with positive sentiment reflecting hopes of an improvement in economic conditions as well as plans to increase overseas workloads. The level of optimism strengthened for the second consecutive month.
Got a story? Email news@theconstructionindex.co.uk