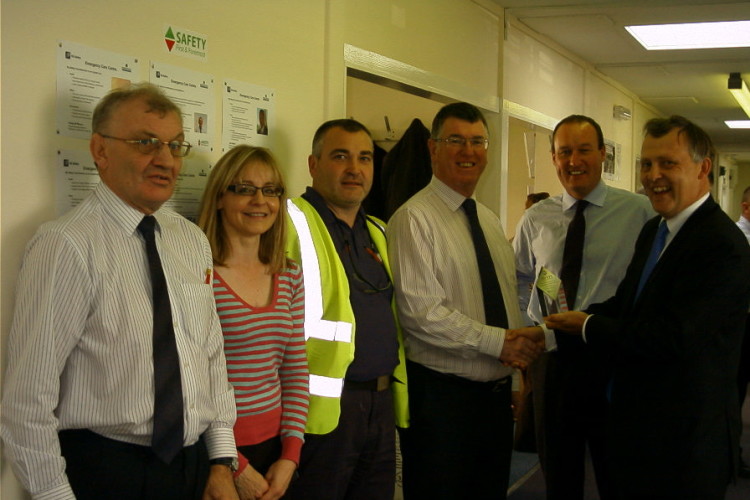 The £110m Emergency Care Centre (ECC) on the Foresterhill site in Aberdeen is being built by RD Health, a consortium, formed exclusively to work in partnership with NHS Scotland as part of Frameworks Scotland. Robertson, the infrastructure, support services and construction group is the primary member of RD Health.
Robertson appointed NG Bailey to deliver mechanical & electrical (M&E) and Information Communication Technology (ICT) Services for the new Centre.  Safety First and Foremost is a behavioural safety programme that requires the meticulous execution of a wide range of tools such as an induction DVD, team commitment documents, near miss reporting, behavioural improvement plans and a safety matrix.
The Award is made every quarter and is open to all of NG Bailey's sites across the UK. 

Andy McPherson of Robertson said; "The Award is well deserved.  We have developed a really close team with the client, NHS Grampian, and across our sub-contractors alike.  This close collaboration has undoubtedly been a key part of our success to date and I am certain has contributed to our selection for this Award."
Martin Bailey, Executive Director of Innovation at NGB, was on site last week to present the award to Andy McPherson and the ECC Team.
The Emergency Care Centre at the Foresterhill site, Aberdeen will become a "hub" for unscheduled care in Grampian bringing togethera wide range of health care services. It will include the G-MED out of hours service, A&E, acute hospital assessment and admissions, part of NHS24, community services, mental health services and a range of other clinical functions. The main phase of construction is scheduled for completion by December 2012.
Got a story? Email news@theconstructionindex.co.uk