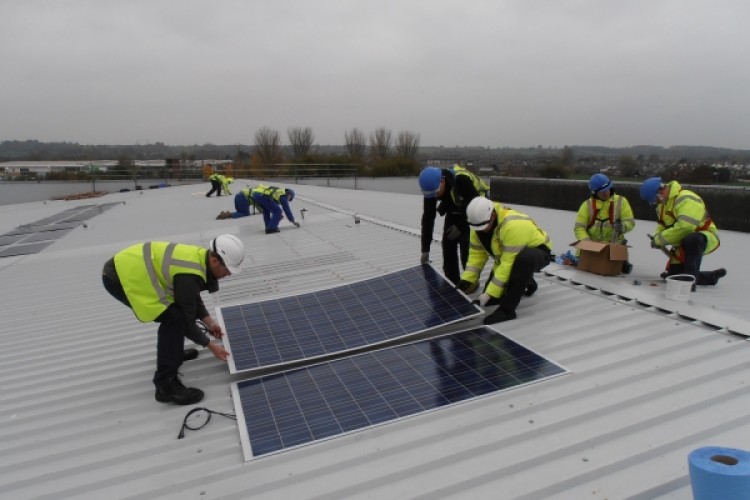 With the launch of the Green Deal for non-domestic buildings in 2013, the demand for cost and energy efficient building materials is greater than ever.
The building envelope has traditionally played a passive role in the environmental credentials of a building, with associated cost efficiencies often stemming from the durability and air tightness of the product.
However, the development of new solar heating systems has enabled the building envelope to play a much more active role, and has given contractors more opportunity to provide solutions for their clients.
One such system has been applied to Deeside Leisure Centre, helping to provide a much needed source of energy. Colorcoat Renew SC from Tata Steel encompasses system design, renewable energy generation and control, to provide space heating and ventilation air.
The Leisure Centre in Flintshire is the Welsh National Centre for Ice Sports and has been subject to an extensive refurbishment to include a fitness suite, 3G football pitches, an 8-court sports hall and squash courts, as well as an Olympic size ice pad.
"Reducing the leisure centre's net demand for power and generating renewable energy were critical elements of the refurbishment, due in part to the capacity constraints on the building's electrical supply," explains Andrew Pleass, Commercial Manager at Tata Steel. "In addition, the leisure centre needed a heating system that would enable them to meet strict quality climate conditions in winter."
Integrating renewable energy
The refurbishment team needed to identify and integrate a source of renewable energy that would be cost effective to install, and that would minimise energy spend in the longer term. The solution was provided through an integrated air heating system.


The renewable energy heating system incorporates Tata Steel's pre-finished steel Colorcoat Prisma as the solar collector.
"This has been installed as an additional skin onto an existing wall at Deeside Leisure Centre, creating a cavity between the wall and the metal skin," says Pleass.
"Negative air pressure within the cavity draws pre-heated boundary layer air through perforations in the transpired solar collector's surface, into the cavity. The heated air is then fed either directly into the building as ventilation, or ducted into a HVAC unit where it is used as a pre-heater to the main heating system."
Colorcoat Renew includes a pre-engineered control system that will help the centre meet strict quality climate conditions in winter by maximising heating efficiency.
Some 260m2 of Slate Grey Colorcoat Prisma has been used on the Deeside Leisure Centre building envelope as the transpired solar collector. Additionally, 3,250m2 of Oyster Colorcoat Prisma was supplied as the oversheet for a PV installation on the roof. A total of 180 SOLON Blue 270/11 (275Wp) PV modules covering approximately 360m2 have been installed , directly bonded to the Colorcoat Prisma roofing system with a total generating capacity of 49.5 kWp.
The low initial capital cost for installing the systems alongside the short payback period is a key benefit for Deeside Leisure Centre.
"The transpired solar collector on the building is expected to provide 70 MWh of direct heat energy and offset a further 40 MWh of traditional thermal losses each year, equating to payback in under 10 years," says Pleass.
"The PV panels are expected to deliver 39 MWh per year, which means payback through electricity savings in 10 years."
Got a story? Email news@theconstructionindex.co.uk