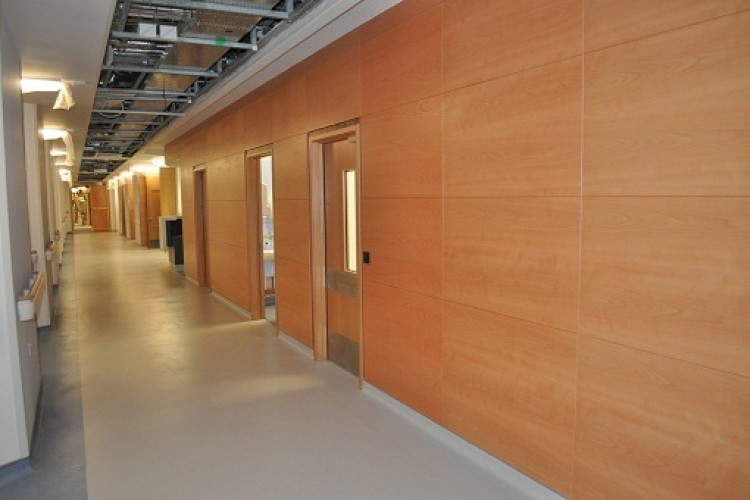 Designed and specified by specialist fire door manufacturer, TDSL, Pyroguard was used within high performance fire doors and screens throughout the new £276m state-of-the-art acute facility.
Appointed by main contractor, FCC Elliott, TDSL worked closely with CGI International to ensure the 2745 fire rated doorsets and 35 fire screens were installed within the specified timescales – just eight weeks from initial order to site delivery.
Designed with safety in mind, Enniskillen Hospital is the first facility of its kind in Northern Ireland to have a single en suite room for every patient. With 300 individual patient rooms, this significantly increased the number of fire doors required as compared with a traditional open ward approach. 
Ash Malhan, TDSL CEO, explains: "Fire rated doors are an essential part of any public development, but especially those where there are vulnerable people, such as hospitals. At Enniskillen, we installed one of the highest numbers of fire rated doors per square foot – which demanded a high level of coordination and efficient delivery of products to site.

"Working closely with CGI International, we were able to ensure the Pyroguard products were manufactured and ready when we needed them, ultimately keeping the project on track and enabling the handover of the scheme on time."
Pyroguard fire glass solutions provide access to the full range of fire rated glazing products, including integrity only (E), integrity with radiation control (EW) and full integrity and insulation (EI). As an approved Pyroguard partner, TDSL is able to utilise these Pyroguard products as part of its own specialist range of fire rated door and screen solutions.
Paul Wakeling, Project & Specification Manager, CGI International, concludes: "Pyroguard is increasingly being specified for use in projects where only the highest levels of fire protection can be accepted – including hospitals such as Enniskillen. As one of the most widely tested fire glass ranges on the market, specifiers – and our manufacturer partners – have confidence that we can meet virtually every project requirement, no matter how demanding the timescales."
Got a story? Email news@theconstructionindex.co.uk