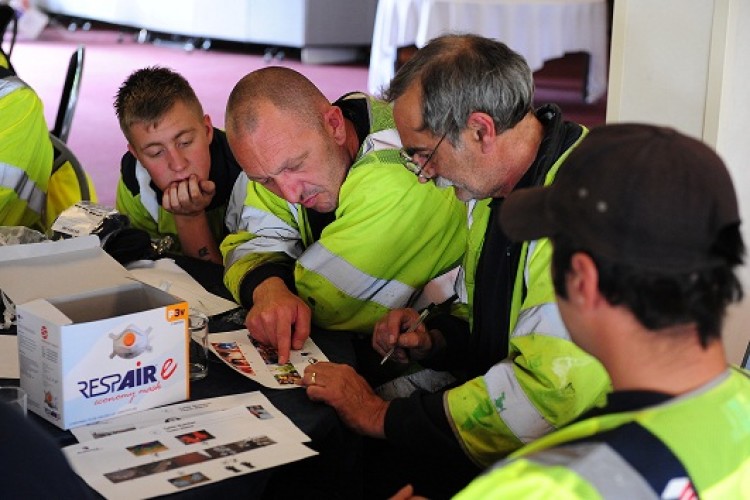 This initiative, led by the Eurovia Group, involved over 40,000 employees across Europe taking part in promoting health and safety on one day, highlighted the importance of safety and promoted teamwork in response to shared issues of occupational safety.   On the day Eurovia employees showed their collective commitment to health and safety values by considering identical scenarios and sharing their views on health and safety procedures. 
"In order for the event to be consistent across the world we established some key themes for the day," said Dave Campbell, Eurovia Health, Safety and Environment Manager. "We supplied a variety of supporting materials such as presentations and DVDs and the local preparations started well in advance, it was a real group effort."
Near-miss Reporting
The main theme of the day was near miss reporting and included a DVD re-creating a number of near miss scenarios. "Near-miss reporting is crucial to Eurovia continually developing its procedures and providing safer working environments," added Dave. "We wanted to show how near miss reporting is perceived across different countries and how through being proactive in reporting near misses, incidents can be avoided." The DVD was filmed in the UK, France, Germany and Chile. A real international production.
Eurovia's asphalt production plant in Dagenham recently won an award for its contribution to avoiding incidents.  After a series of near misses were reported Eurovia implemented proximity sensors and cameras to its fleet of heavy goods vehicles, which were trialled for 12 months. Following a successful trial the cameras are being rolled out across the fleet. This approach saw Eurovia receive the Chartered Institute of Highways and Transport Award in its Technical Application category.
Employees also had the chance to take part in practical demonstrations and mock site inspections. This included a vehicle defect awareness session where a 7.5 T vehicle was prepared with a number of defects and employees were given the task of identifying them. A mock site inspection and mock roadworks site were also erected and littered with errors and dangers. Employees were tasked with carrying out inspections to check the site for compliance and identifying defects.

Other themes such as sun awareness were also featured with practical advice on hydration and sun-screening being offered; and a review of Protective Personal Equipment was undertaken to assess the suitability and quality, whilst addressing the fact that PPE does not mean workers are automatically invincible.
Drive for Life
"We were also keen to focus on some localised themes at some of the depots and in the UK we used the health and safety day as a platform to launch the Eurovia Drive for Life campaign," says Dave. "The campaign is a competition made up of 5 categories and welcomes as many participants as possible, the campaign forms part of our Vigiroute management of road risk programme and will run until the UK road safety week in November; raising awareness of road and driver risks as well as exploring alternative and sustainable transport."
"We are all hugely proud of the Eurovia safety days and the staff who run the events. The employees who attend are Eurovia's life blood and these participation days, ultimately, are all about them," concludes Dave. "The first day in 2009 was really well received and with this year's event I'm convinced we have done a better job, all the staff have been extremely positive and I personally can't wait for the next one!"
Eurovia are keen to promote safer working environments at all its locations and the safety days have been an ambitious project to unify the companies various international bases. The recent CIHT award is proof of Eurovia's proactive approach to health and safety issues in the workplace and the continued drive for life campaign seeks to keep the issues surrounding workplace safety fresh in the minds of its international workforce. 
Got a story? Email news@theconstructionindex.co.uk