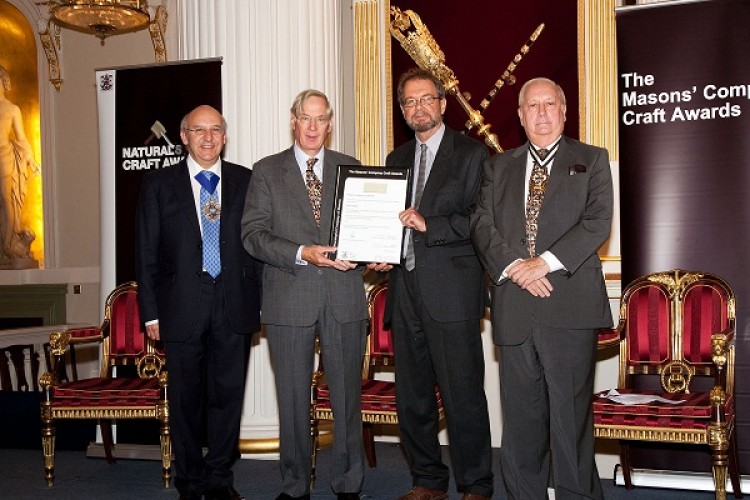 The Duke of Gloucester Awards were launched in 2007 to encourage high standards in all aspects of stonemasonry. At this year's Natural Stone Craft Awards ceremony, held at Mansion House, London, Tim Crawley was named the winner of his category, nominated a Yeoman Mason and presented with a cheque for £500 by HRH Duke of Gloucester to be used to help advance his career in stone carving.
Project Craftsman of the Year, supported jointly by Stone Federation Great Britain and the Worshipful Company of Masons, is an accolade for a stonecraftsman with a minimum of five years' post-qualification experience who has shown high standards in a portfolio of projects.
In a rigorous judging process, Tim Crawley was asked to display evidence of his stone carving expertise including both design and implementation of his work. With over 25 years' experience as a stone carver and sculptor and an impressive portfolio including such high-profile projects as the Atlas Fountain at Kenilworth Castle; the heraldic carvings at Temple Bar; The Beasts at St George's Church Bloomsbury; and the Modern-Day Martyrs at Westminster Abbey, Tim was the unanimous choice of the assessors.
The assessors commented: "Tim Crawley's carving is exemplary and to the highest standard spanning many years and projects. His outstanding commitment to the craft over 20 years makes him one of the country's most sought over sculptors."

Henry Broughton, Director at Fairhaven & Woods, said: "We are very proud of Tim and his achievement in winning this award. Tim is an extremely talented stone craftsman; he combines both expert knowledge and practical experience of sculpture and stonecarving."
Fairhaven & Woods was also delighted to receive a commendation within the 'Small Scale Monuments and Carving' category, at the Natural Stone Craft Awards, for its new fireplaces in a Jacobean style for a private residence in Chelsea. This project involved the production and fixing of a suite of six new fireplaces. The fireplaces were designed in keeping with the 16th Century style of the building, two of the pieces are highly elaborate, using a polychrome mixture of marble, limestone and slate enhanced with carved detail and gilding to stunning effect. The work involved the highest levels of skill in all areas of the crafts of masonry and carving and the use of many types of stone.
The Masons Company presents its Craft Awards every four years in recognition of the stonework involved in creating and maintaining the built heritage of London.
Got a story? Email news@theconstructionindex.co.uk