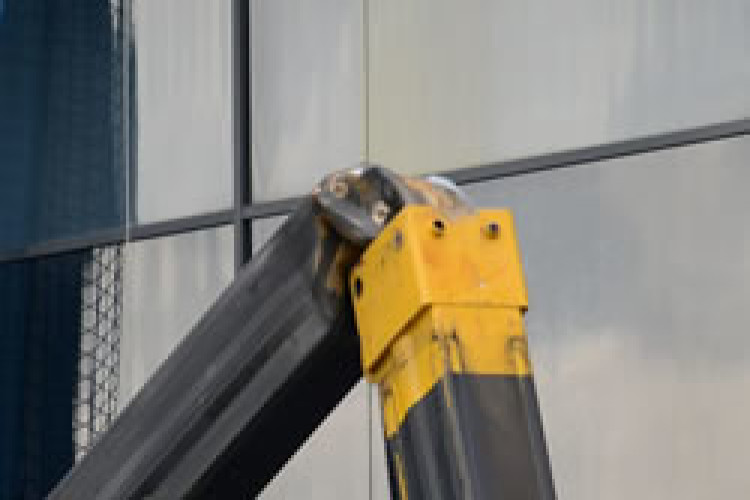 He was working for One Stop Safety Systems Ltd, operating a truck-mounted Bizzocchi 43, on the facade of the Buchanan House office block in Glasgow city centre, when the boom buckled.
A 34-year-old man who was also injured is said to be stable in hospital.
The boom lift was on hire from Craig Services & Access Equipment Ltd.
According to the Daily Record newspaper, the machine had failed in the same place on 17 June last year. On that occasion, the users escaped unharmed, landing on a roof.
Craig bought the crane in 2009 after previous owners, Newcastle-based ES Access, went into administration. ES Access owner Paul Hunwick had discovered metal fatigue in the boom and had sent it to be repaired in Italy by the manufacturer. Soon after, the company went into administration and all assets sold.
Mr Hunwick told the newspaper: "The boom had a crease in it. You have to have them inspected every six months and we found this problem. We contacted the manufacturers and sent it to Italy to have two new boom sections put in.

"We paid a £12,000 deposit to have them built but our company went into administration shortly after that and administrators took over the assets.
"I believe Donald Craig [owner of Craig Services] bought the truck after that. I didn't think any more of it until I saw the news yesterday. It looks like it has broken because of metal fatigue, so whether those new booms were ever put in I don't know."
Ucatt regional secretary Harry Frew said: "Information that is emerging about the condition of the plant is extremely worrying and raises questions which must be addressed by the Health & Safety Executive's investigation. It now appears that the equipment may not have been fit for purpose due to company changes and repairs that were required. Mr Currie's family deserve answers as to how this terrible incident took place and why this plant failed." 
One Stop Safety Systems Ltd issued a statement of condolence: "Our sympathies are extended to the family of our employee, Gary Currie, who was killed in the industrial accident on Wednesday afternoon. Our sympathies are also extended to the injured crane operator from Craig Services and Access Limited. Our thoughts are with him, his family and work colleagues, and we hope he makes a full recovery from his injuries.
"Everyone involved with our company has been greatly affected and saddened by the tragic events of yesterday afternoon. The directors of the company will do everything in our power to make sure both families are given every possible assistance and support in the days ahead.
"In addition to carrying out our own internal investigation, One Stop Safety Systems will co-operate with the owners of the crane and the Health and Safety Executive in their investigations. We aim to provide the safest possible working environment for our workers and everyone connected with the company."
Got a story? Email news@theconstructionindex.co.uk