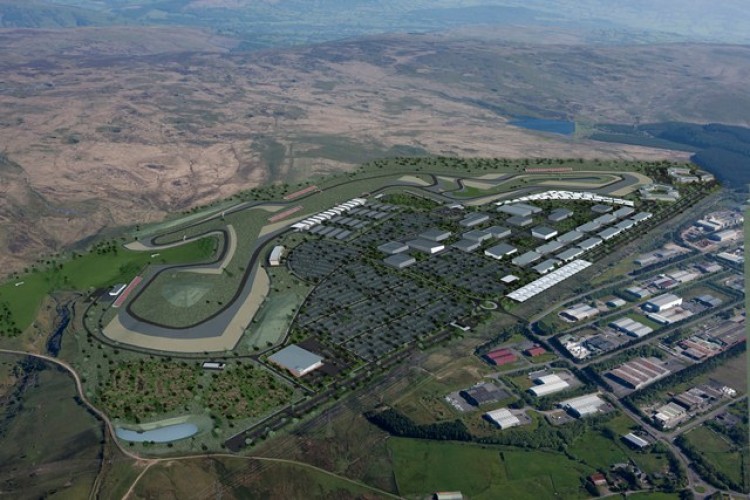 Michael Carrick, chief executive of project client Heads of the Valleys Development Company, described the contracting team as a "perfect complement of international expertise and local knowledge".
He said: "We chose these companies because of their vast experience, global renown and because of the superb team they can put in place. They fully grasp the Circuit of Wales concept and how to deliver it and share our vision and passion for making it happen."
The main racetrack will be approximately 3.5 miles long and built to both FIA (Federation Internationale de l'Automobile) and FIM (Federation Internationale de Motocyclisme) standards. There will be an international kart track and motocross tracks.
The development will include a technology park adjacent to the circuit to cater for higher specification research, development and support services in the automotive and motor sports sectors. A leading motor sport race academy will also be created.

FCC Construcción, which also built the celebrated Circuit of Jerez in Andalusia, has been targeting the UK in the wake of the collapse of its domestic market. UK managing director Rafael Foulquie said: "This project signifies a remarkable milestone within the company's international development, and reinforces our vision of the UK as our main target. It's a great opportunity for FCC to get established in Wales, promote local employment and work closely with local communities."
Alun Griffiths (Contractors) is a prominent Welsh civil engineering contractor. Recent projects include the A465 Section 4 Dualling Scheme and the civil engineering works on the 2010 Ryder Cup golf course in Newport.
"As a local Welsh company, it is a huge honour for Griffiths to be involved in the delivery of the Circuit of Wales," said executive director Martyn Evans. "This is the sort of project that will change lives in Blaenau Gwent, as well as people's perception of the area. We're thrilled to be a part of it."
Got a story? Email news@theconstructionindex.co.uk