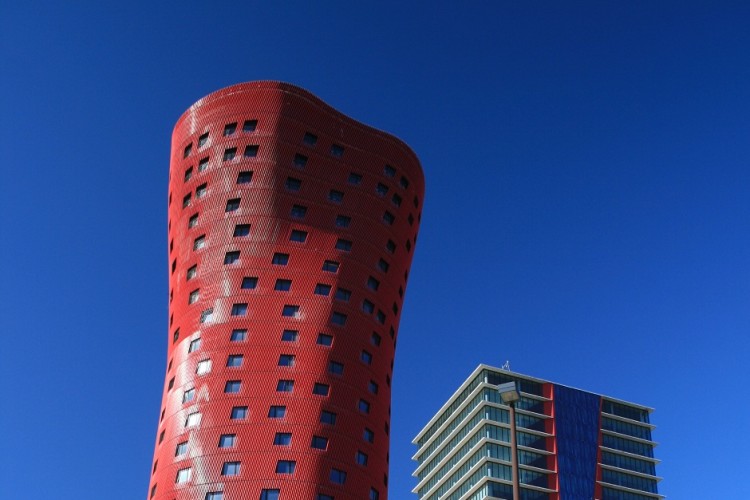 The building was chosen from over 300 skyscrapers around the world.
The Emporis Award for the Best New Skyscraper, is the world's most renowned prize for high-rise architecture. The jury is made up of architecture experts from 67 countries. Previous winners include Norman Foster's 30 St Mary Axe ('The Gherkin') in London and Santiago Calatrava's Turning Torso in Malmö, Sweden.
According to the jury,Porta Fira tower was chosen for its aesthetic beauty and urban integration.  Dubai's Burj Khalifa, the world's tallest skyscraper, came second place in this year's awards.  In third place was CMA CGM Tower, a 147m tall skyscraper in Marseille, France.
Hotel Porta Fira was designed by the Japanese architecture firm Toyo Ito & Associates and the Spanish firm b720 Fermín Vázquez Arquitectos.The 26-floor hotel tower is 113 metres high and is located in one of Barcelona's busiest areas. Porta Fira belongs to the Hoteles Santos chain, which also owns several other landmark hotels.
According to Fermín Vázquez, the greatest challenge in designing the tower was its shape. The unique façade is made up of aluminium tubular structures that run vertically around the entire exterior, from the ground to the crown. The hotel is visible from a distance due to its striking red colour and its tube-like structure widens as it rises. b720 Arquitectos also designed the Agbar Tower in Barcelona, which came second in the Emporis Skyscraper Awards in 2004.
FCC's 'Diagonal ZeroZero Tower' wins 9th place
In addition to the Porta Fira Hotel, another FCC project was ranked in this year's Emporis Skyscraper Awards. FCC's Diagonal ZeroZero Tower in Barcelona took ninth place. The tower, which was designed by EMBA (Estudi Massip-Bosch Arquitectes), is home to Telefónica's headquarters in Barcelona.
This 25-storey diamond-shaped skyscraper is 110 metres tall and has received several other awards including the Quatrium Prize for architecture in 2010.
The top skyscrapers of 2010 include buildings from all over the world, however, according to Matthew Keutenius, architectural expert at Emporis and Chairman of the Skyscraper Awards jury, the Mediterranean coast is now a focal point for world-leading architecture.
Best skyscrapers worldwide, according to Emporis:
| | | | | |
| --- | --- | --- | --- | --- |
| Ranking | Building | City | Floors | Height (m) |
| 1 | Hotel Porta Fira | Barcelona | 26 | 113 |
| 2 | Burj Khalifa | Dubai | 163 | 828 |
| 3 | Tour CMA CGM | Marseille | 33 | 143 |
| 4 | The Pano | Bangkok | 55 | 203 |
| 5 | Capital Gate | Abu Dhabi | 35 | 160 |
| 6 | The Legacy at Millennium Park | Chicago | 73 | 250 |
| 7 | Strata | London | 43 | 148 |
| 8 | Capital City | Moscow | 76 | 302 |
| 9 | Diagonal ZeroZero Tower | Barcelona | 25 | 110 |
| 10 | International Commerce Centre | Hong Kong | 108 | 484 |
| 11 | Goldman SachsHeadquarters | New York | 44 | 228 |
Got a story? Email news@theconstructionindex.co.uk