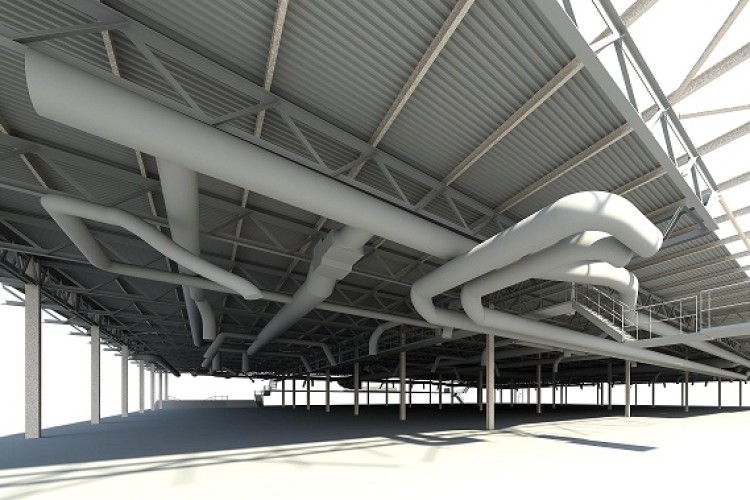 eBIM (Existing Building Information Modelling) will focus on the growing demand from architects and contractors for accurate surveys of existing buildings and infrastructure in a BIM or REVIT format.
Formed by a collective of architects, technologists, surveyors and laser scanning experts, eBIM is the first company to specialise in providing BIM surveys. eBIM achieves this by developing unique work flows utilising the new Faro Focus 3D laser scanner.
Ben Bennett, managing director, explains:
 "We've been carrying out laser surveys for over three years and the equipment has been continually evolving. The Focus 3D is light and portable, making fast digital documentation of large structures as easy as taking photos.
"The speed of the Focus means that site time is dramatically reduced and its small footprint makes a one man scanning operation possible."
With the new native point cloud support in Revit 2012 the modelling process has matured, allowing eBIM modellers to work directly with the point data in 3D.
eBIM also extensively utilises Faro's Webshare software.
"Webshare has become an essential tool for our modellers, providing a full photographic quality survey of the site. Everything can be checked and quality assured before it goes into the model," added Ben.

eBIM has already completed a number of prestigious projects with the most recent being a conference centre for Parsons Brinckerhoff where two floors, each measuring 10,000 m2  were scanned.  The front end work was undertaken over one week on site.  Scanning allowed the entire site, including all the services and pipe work in the ceiling void to be captured. This type of project could not be achieved using conventional methods with the speed and accuracy that laser scanning is providing.
By delivering the final survey as a full BIM model, the end users are able to focus on what they do best, designing without requiring additional training or hardware to use the point data.
Andrew Powell, associate, Parsons Brinckerhoff, commented:  
"We are increasingly using BIM on our projects so when faced with the prospect of a 10,000 m2 building refurbishment project for the University of the West of England, we were keen to get an accurate as existing survey that was going to give us the maximum value.
"The entire design team were using the Revit suite of products, so it made sense that the brief for the survey should ask for a Revit model as part of the outputs.
"We decided to use a laser cloud point survey, to allow the building to be quickly and accurately surveyed and using eBIM, Digital Surveys was able to provide a comprehensive Revit model as part of the final deliverables."
The construction sector is going through its biggest change since the introduction of CAD to replace hand drafting. Technology like the Faro Focus 3D combined with the latest BIM software is allowing eBIM to create new digital 3D workflows that allow large construction projects to be delivered faster, more accurately and to a higher level of detail.
Got a story? Email news@theconstructionindex.co.uk