The tunnel portals will act as an entry point for the tunnel boring machines and ultimately provide an entrance and exit for trains to the underground sections of Crossrail.
Tunnel construction is scheduled to start in spring 2012 when the first TBM is launched from Royal Oak. This will be followed by the launch of further TBMs to construct the remaining tunnels.
Construction of Royal Oak Portal was completed nearly a month ahead of schedule. Work started in January 2010 within a narrow corridor at Royal Oak, bordered by the A40 Westway to the north and the Hammersmith & City line and Network Rail lines to the south.
The works comprise a massive ramp structure that will take the Crossrail tracks from ground-level down into the underground tunnels. A total of 25,000m3of spoil was excavated to construct the tunnel portal with the excavated material re-used at construction sites in London.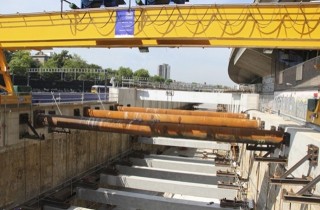 At the deepest end of the ramp, a concrete headwall was constructed with a pair of 7.24m diameter tunnel 'eyes' created for the installation of steel rings. The tunnel 'eyes' mark the exact location of where the TBMs will start. The tunnel eyes and rings will support the tunnel opening when the TBMs break-through the headwall.

The first TBM will set out from Royal Oak to Farringdon West, 6.2km away. This contract, C300, will be carried out by a joint venture of BAM Nuttall, Ferrovial Agroman and Kier Construction and is scheduled for completion in the third quarter of 2013.
The Paddington New Yard site, containing both the Royal Oak portal and Westbourne Park worksites, has now been handed over to the contracting JV, which has begun to mobilise on-site.
Prehistoric animal bones were uncovered by archaeologists during excavation for the portal. The remains included those of the Auroch, a large ancestor of modern cattle. The prehistoric bones are now being studied before they are incorporated into the Natural History Museum's permanent collection.
A total of five tunnel portals will be constructed for Crossrail at Royal Oak to the west of Paddington, Pudding Mill Lane near Stratford, Victoria Dock and North Woolwich in the Royal Docks and Plumstead near Woolwich.
Main construction at Pudding Mill Lane Portal is now underway with enabling works progressing at North Woolwich and Plumstead portal sites. Construction of Victoria Dock Portal is scheduled to start in autumn 2012.
Got a story? Email news@theconstructionindex.co.uk